A very popular way to enjoy a smoothie these days involves a smoothie glass with lid and straw. It looks fashionable in the instaposts and gives a summer vibe that makes us all fantasize about sandy beaches and vacation. If you want to choose among the best models the market has to offer follow our post below!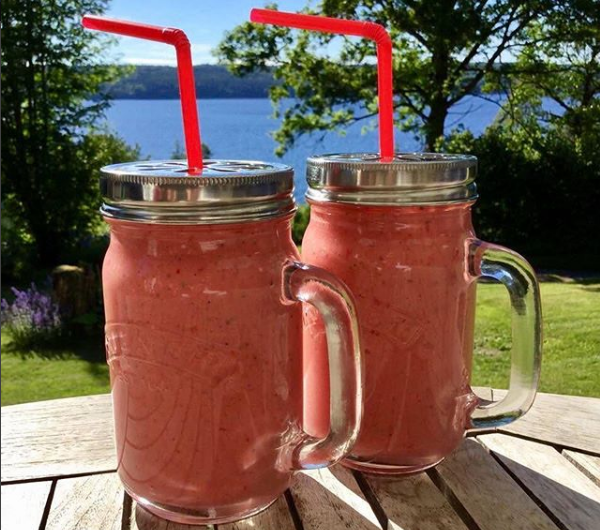 The large size (30oz) and the wide straws make this model very attractive for the smoothie lovers. The lid sits very securely, and the straw is just big enough to allow the user to enjoy quite thick mixes. As a bonus, it comes with a passivated interior and does not retain odors or tastes!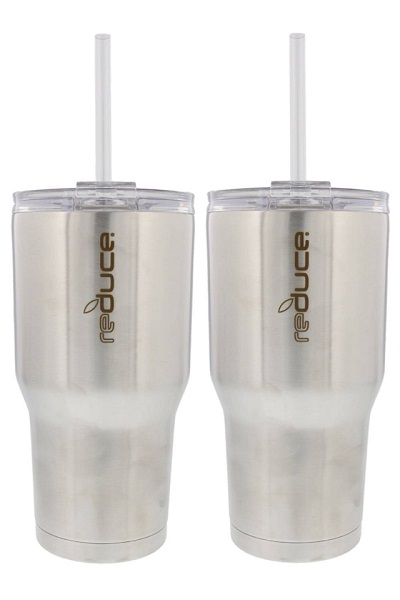 Features
30oz capacity, with 2 extra straws
Sweat-proof body
Fits most cup-holders
Sip, drink it slowly, or gulp it down with the reduce's 3-in-1 lid
Made of 18/8 stainless steel & 100% BPA-free materials
An abundance of colors and durable, BPA-free tritian construction make the Copco tumbler the perfect partner for the smoothie lovers. Quarter-turn lid sealing design helps prevent leaks and spills.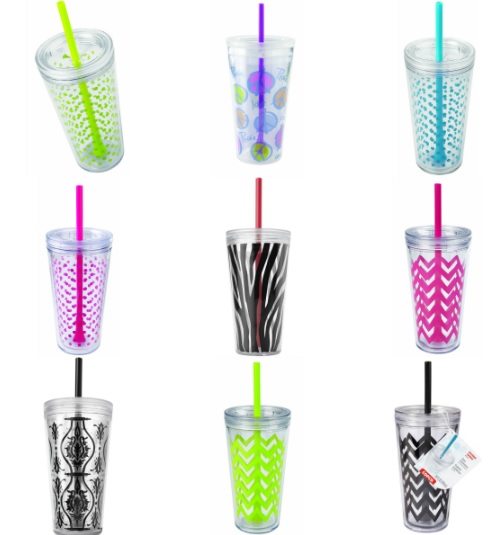 Features
Durable, BPA-free construction; double wall insulation
Removable straw
Quarter-turn lid sealing design helps prevent leaks and spills
Holds 24-ounces
Top rack, dishwasher safe; hand washing recommended
Durable design and dishwasher safe elements allow you enjoy your smoothies worry free! It is a superior quality product that holds 20 oz of liquid cold, with no sweating!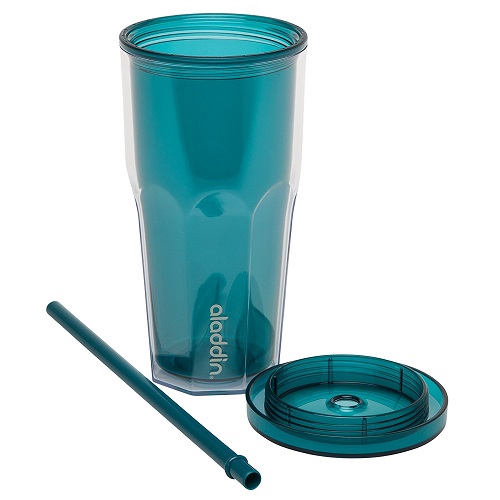 Features
Double-wall insulated keeps drinks cold for a longer period
Dishwasher safe
Thick, reusable straw
Cupture Classic Insulated Double Wall Tumbler Cup with Lid, Reusable Straw & Hello Name Tags – 24 oz
These very reasonably priced tumblers ensure that you can serve your smoothie to go without the threat of spills and with the added bonus of keeping them at a great temperature. The reusable labels stick well to the surface (reusable in this case means you can put them on different cups, not that you can write different names). Though technically dishwasher safe, due to the budget-friendly price they come with it is best to protect the cap's seal and choose to handwash.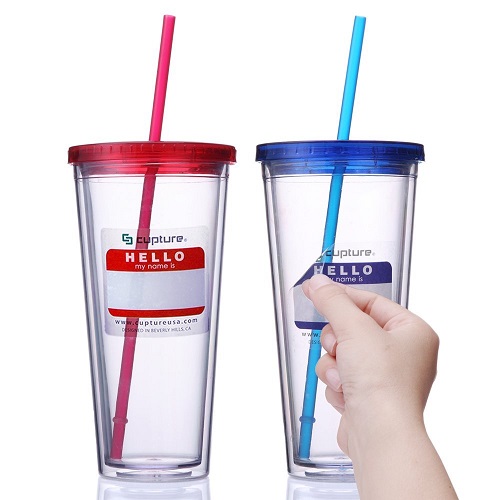 Features
2 Removable & Reusable Hello Name Tags – with no sticky residue!
24-ounce cups; fits most car cup holders
Classic double wall insulated design, sweatproof
Rinse & Reuse
Truth be told there is quite a frenzy with these mason jars but they are so adorable and versatile that it is easy to understand why they pop out everywhere: weddings, bars, restaurants, parties, etc. This colorful quartet is perfect for a family and a sweet gift for friends. Made out of high quality, durable glass, they allow you to admire the contents without keeping any odors after being washed!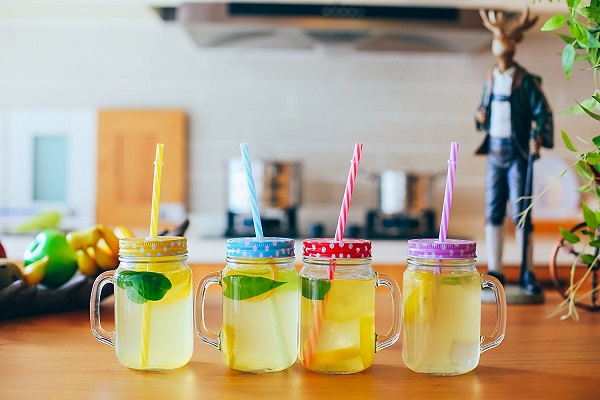 Features
Mason jar with 4 colors lid and 4 colors straw
Capacity: 450ml/16oz per jar
Perfect serving cups for blended drinks, smoothies and other cold beverages
DISHWASHER SAFE: only the glass part
Enjoy a colorful experience with these 12 handy tumblers that keep cold drinks colder and hot drinks hotter with ultrasonic sealed double wall design and screw on lid! They are very easy to customize with different colors straws or even stickers or why not a sharpie?  They are very similar to the quality of the Starbucks tumblers and at 16 oz they provide enough room for a good-sized beverage. If you love the clarity and want to show off your colorful smoothies this is a great product for you!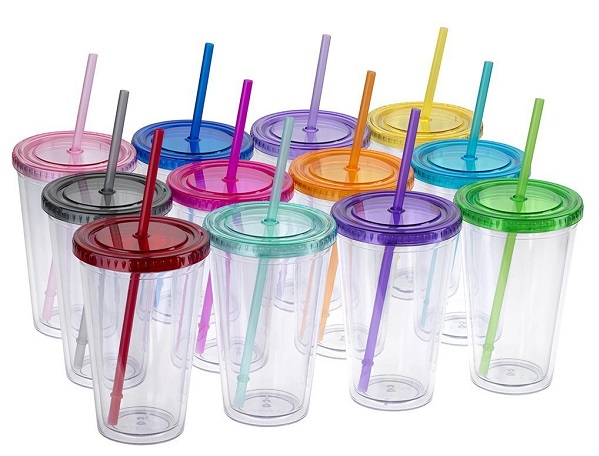 Features
16 oz. high-grade double wall acrylic tumbler
Double wall construction reduces condensation
Recommended for both hot and cold liquids
DISHWASHER SAFE: top rack dishwasher safe and fits any standard size cupholder
This is not our favorite choice when it comes to smoothie glasses with lids and straws since we are more nature-friendly oriented, but we certainly understand the appeal of the Decony's 100 set of 16 oz clear cups with lids and straws. Considering the price, it won't hurt your wallet if you choose to dispose of the cup after use but the manufacturer advertises them to be sturdy enough to reuse. So, if you simply want to enjoy your smoothie to go and not have to clean the cup after it stayed in a hot car for the whole day this is a good option!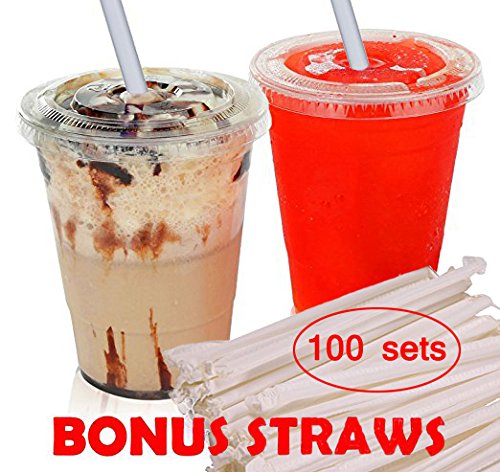 Features
100 sets 16 oz. clear plastic cups with flat lids plus 100 wide smoothie straws wrapped individually
Made of durable PET, clear plastic, resistant to cracks and breakage
Clear, flat lid – with a perfect fit
If you prefer a precious look this tumbler cup looks like a piece of jewel. With a special, asymmetric, multifaceted cut design it brings versatility and style to your life. It keeps drinks insulated, hot or cold, it fits anywhere: car holder, desk, backpack and it allows you to stay hydrated and enjoy your favorite drinks: smoothies, coffee, iced tea, and powdered beverages!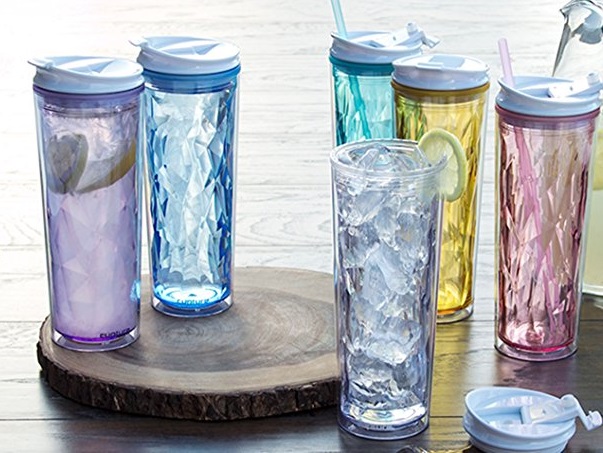 Features
Crystal clear,22 oz capacity tumbler
Secure click and lock lid: flip-top lid feature may be used with or without a straw and is ideal for shaking and mixing
Double wall insulated design keeps beverages warmer or colder, longer and reduces condensation
Fits most cup holders
Top rack dishwasher safe
Easy to clean and durable
BPA Free
As you can see there are many ways in which you can customize your experience and enjoy a delicious smoothie in style. Take into consideration your budget and lifestyle and stay healthy and hydrated!