Having to clean a messy blender after enjoying a delicious smoothie takes almost half the satisfaction from the delicious treat. While some blenders are easier to clean than others, following some simple rules like washing the appliance right after use so that the remains don't dry on the jar and blades, cleaning also the base and using a gentle brush to reach also the bottom of the container can make the task a lot easier. Some people advise pouring some warm water and dishwasher liquid in the jar and give it a spin for a very convenient cleaning experience.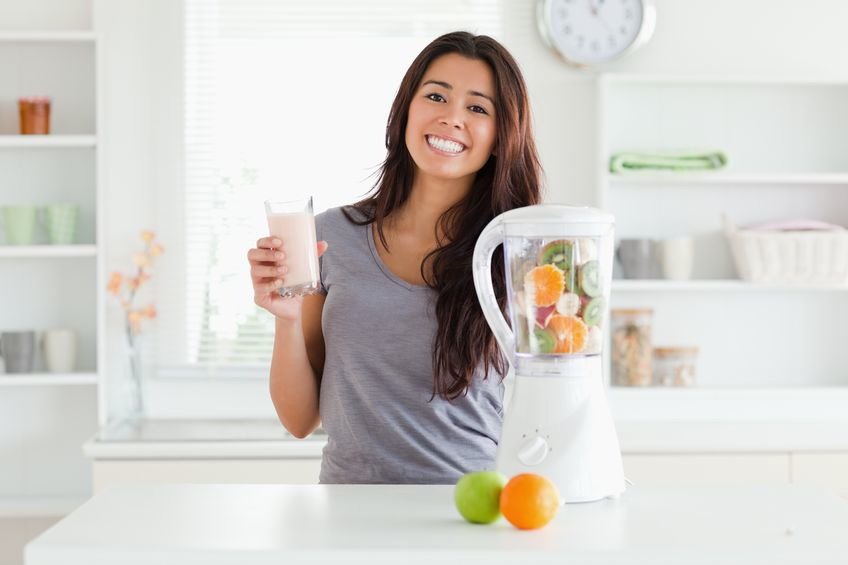 In the following post, you can check out a selection of the best, easy to clean smoothie blender models.
Best, Easy to Clean Smoothie Blender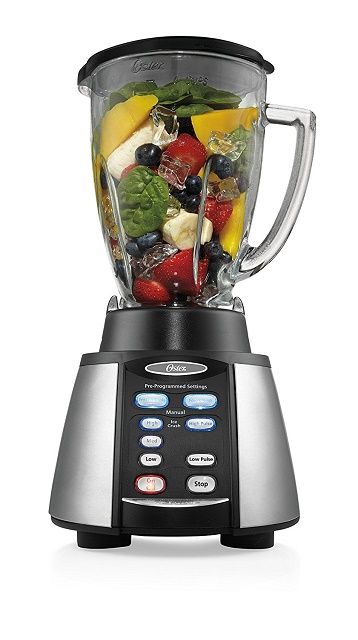 Making smoothies is a breeze with the Oster Reverse Crush Smoothie Blender and so is the cleaning. The 6-cup, glass jar is dishwasher safe so that takes care of the heavy duty part of the job. 1000 power watts/ 600 blending watts, dual direction blade technology, stainless steel, 6-point blade and 7 Speeds from LOW to HIGH PULSE pulverize and chop with precision through any ingredients.
Oster 10 Year DURALAST All-Metal Drive-Limited Warranty ensures a hassle free experience.
For the ultimate smoothie blending experience KitchenAid 5-Speed Diamond blender is the top choice. Versatile, with a robust motor featuring Intelli-Speed control to maintain optimal speed while stirring, chopping, mixing, pureeing or liquefying thought ingredients, this blender is a must have in a modern kitchen. Pulse 1-5 settings and special crush ice mode make this appliance a dream for the cooking aficionado.
The clean-touch control panel wipes clean easily while the 60-oz., BPA-Free, patented diamond pitcher, shatter-, scratch- and stain-resistant is dishwasher safe for easy cleanup.
Available in a variety of colors to customize your experience.
450-Watt Power pod, a 48 oz. pitcher for smoothies and a 16 oz. chopper bowl for even chopping cover all the basics for a useful kitchen robot. All jars include convenient storage lids so you can enjoy the content to go and are dishwasher safe so you don't need to worry too much about cleaning.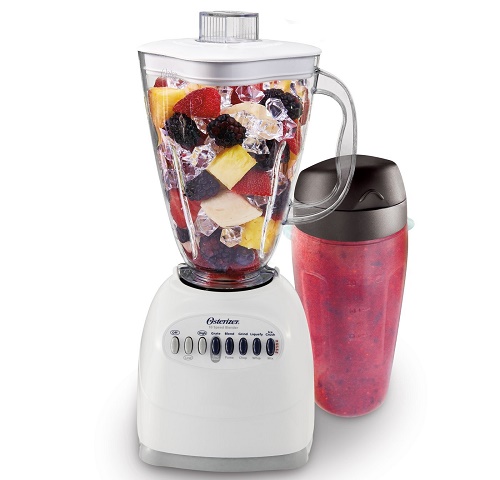 This fantastic blender develops a 450-watts blending power enough to blend most fruit and vegetables into a smooth drink. 10 speeds from PULSE to PUREE allow a customized experience and the bonus smoothie bottle is perfect to serve your favorite smoothie to-go. The Oster 10-Year all metal drive-limited warranty gives peace of mind. Cleaning is a breeze since the 6-Cup BPA free, plastic jar is dishwasher safe!
Personalize your breakfast experience and practice portion control with the help of the Hamilton Beach personal blender. It has an efficient 175-watt motor and a simple, one-touch pulse operation function that delivers fast, smooth results. This lightweight, inexpensive blender has a blending jar that doubles as a detachable travel mug with lid and it is super easy to clean.