One of the smoothies' advantages is that you can take them with you wherever you want and enjoy a healthy, delicious treat throughout the day. For that, it is essential to have one of the Best Smoothie Cups for Travelling and in this post, you can read about some popular choices on the market.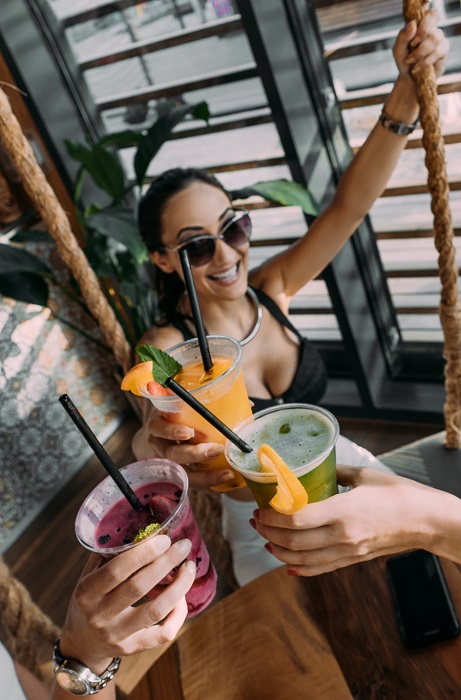 In recent years, the smoothie has become a symbol of healthy and trendy food. This drink is actually a concentrate of mixed fruits and vegetables with amazing virtues. They seem to impact every aspect of our lives, from boosting metabolism to helping us lose weight, improve our moods or have better skin, nails or hair.
Have you ever succumbed to smoothies? These fresh and creamy drinks are wildly successful! Stars, fashionistas and queens of "healthy lifestyles" swear by these combinations of fruits and vegetables.
Best Smoothie Cups for Travelling
Why should You take a Smoothie with You?
More velvety than a Slurpee, more full-bodied than a fruit juice, healthier than a milkshake: smoothies are drinks that are increasingly conquering our taste buds. They are particularly appreciated by healthy and balanced lifestyle seekers. But, what exactly are smoothies?
If you have a good blender at your disposal, making a smoothie is more of a pleasure and less of a challenge. Pick your favorite fruits, veggies or both, put them in the blender, over a liquid base (low fat based yogurt, any type of milk, tea, juice or water) push the start button and mix until smooth. You can add power foods like chia seeds, goji, various nuts, leafy greens, etc, in order to get an extra kick. Keep it cool by mixing a few ice cubes. The sky is the limit when it comes to smoothies!
What Makes a Smoothie So Special?
Why are smoothies so popular? Is it due to their beautiful colors? Is it because they look great on Instagram? Though these two aspects help, what makes smoothies attractive is their numerous health benefits. Constantly, we hear that eating fruits and veggies is great for our health. If consuming them in traditional ways is not your favorite a smoothie can change your mind.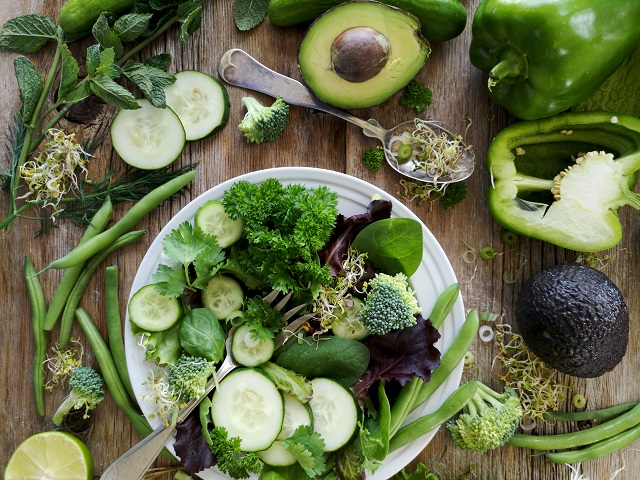 Smoothie Health Benefits
Smoothies make it easy to consume the famous 5 fruits and vegetables per day in a more fun and practical way (we can take them to work, school, weekend trip, etc) … and enjoy them no matter the time of day.
Thanks to smoothies, we fill up on fibers, vitamins, minerals, antioxidants. Besides, the nutritional value of smoothies is even greater if we mix fruits and vegetables without peeling their skin, which some of us (kids, wink, wink) don't enjoy consuming whole!
Detox smoothies, made with fruits and vegetables with purifying properties, are really important allies to help us eliminate the waste and toxins that clog up our body.
Rich in water and fiber, smoothies are drinks that make excellent natural appetite suppressants. Likewise, thanks to their high fiber content, smoothies often prove to be real digestive aids.
Note that green smoothies have their special place in the smoothie world! Drinks made with green vegetables (spinach, chard, kale, etc.) bring a chlorophyll content that does wonders for vitality, sleep and energy!
Tips for a Successful Smoothie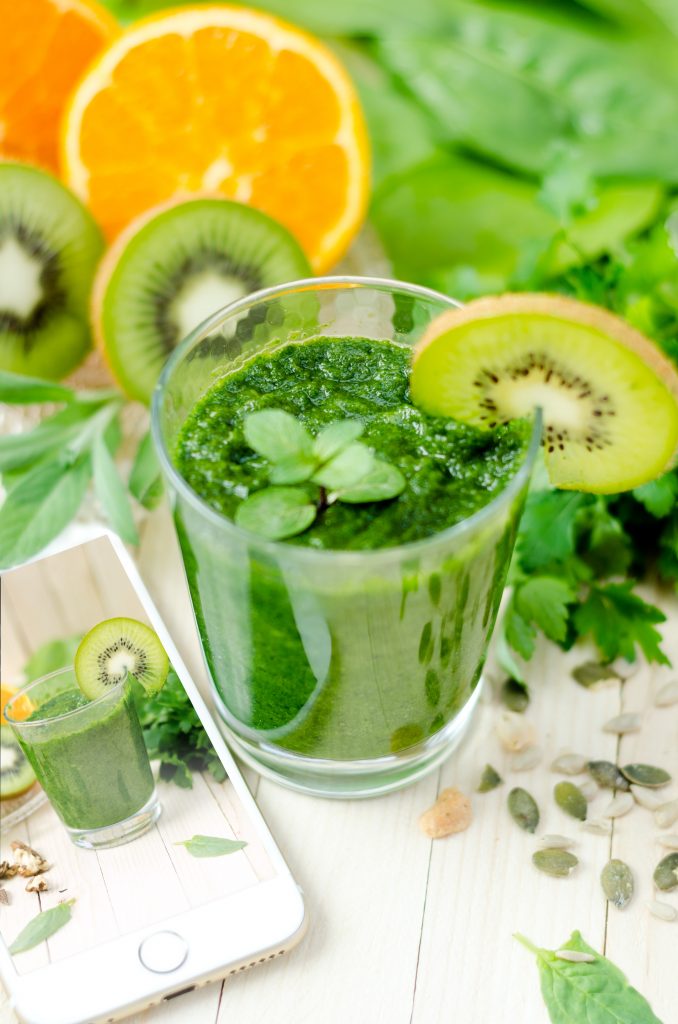 Avoid Using Too Much Fruit!
Beware of the number of fruits you add! Even if the fruits are healthy, they contain fructose, a quick sugar. Instead, add vegetables to your smoothie. They are much less sweet than fruit, have an undetectable taste and provide more antioxidants and vitamins, without the extra calories.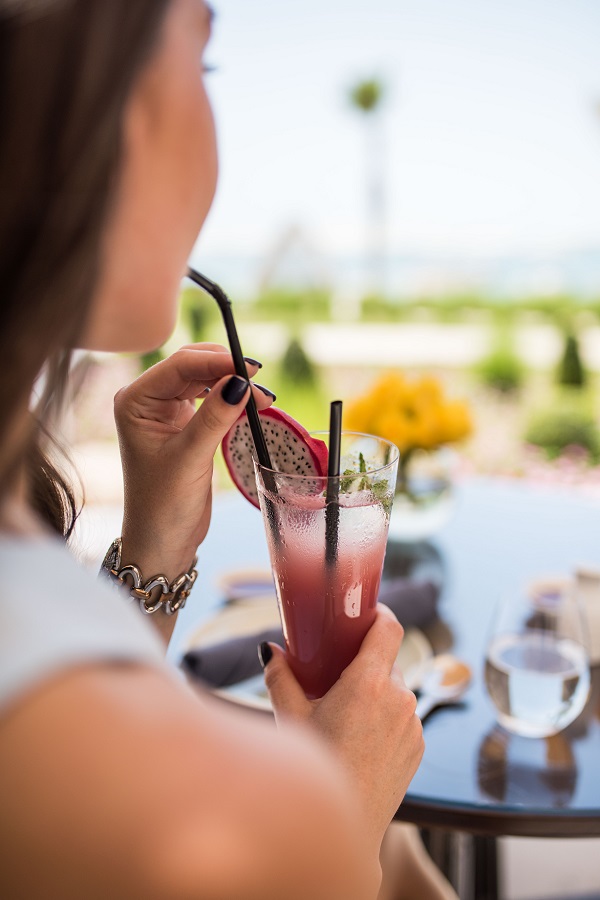 Make it Healthy Sweet
To find the smoothies attractive they must be full of flavor and delicious. If you find your smoothie not sweet enough despite the presence of fruit, you have two options.
The first is to use a little more ripe fruit next time.
The second is to add honey or maple syrup (no more than a teaspoon). They are more nutritionally interesting than white sugar.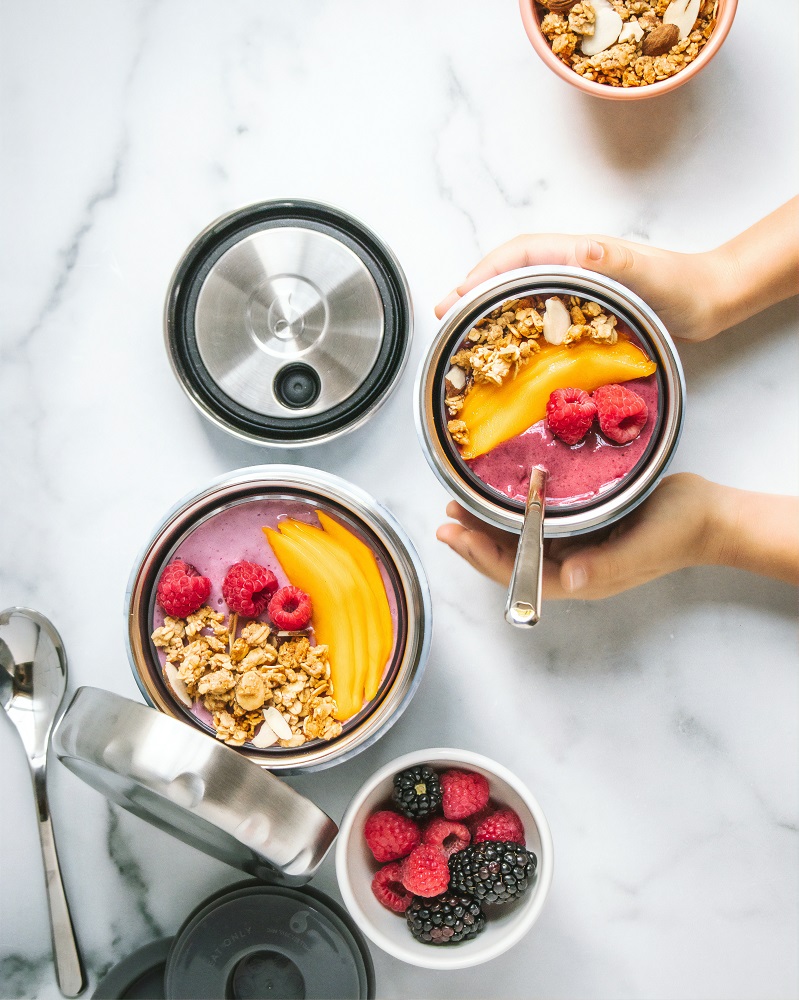 Prep in Advance
In order to keep up with a routine, you need to make it as easy as possible. Prepping a smoothie in advance means you have more chances to consume it later, on the way to work or at lunch. In order to avoid oxidation add lemon juice to your preparation. To keep your smoothie even fresher prepare your fruits the day before by cutting them into small cubes, then freeze them immediately!
Best Smoothie Cups for Travelling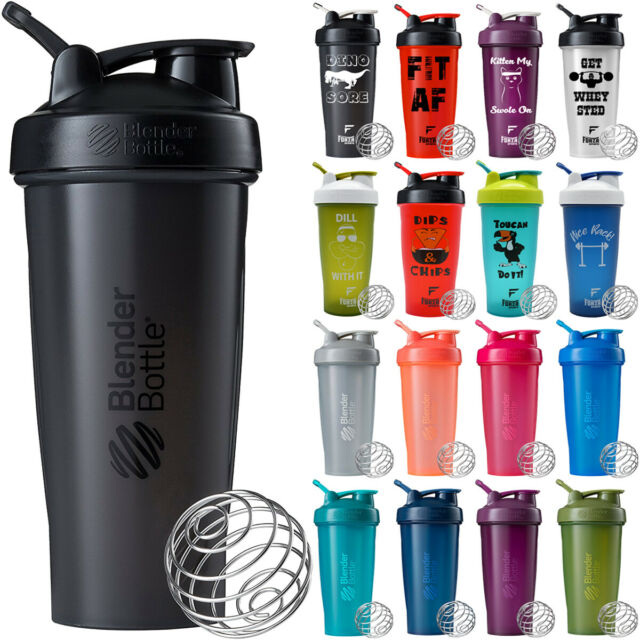 Customers appreciate this bottle for its generous capacity, maneuverability and the fact it does not hold onto any smell or flavors of whatever you mix in it.
28-ounce capacity (note: measurements only go to 20 ounces)
Patented mixing system uses 316 surgical-grade stainless steel BlenderBall wire whisk
The screw-on lid creates a leak-proof seal
BPA and phthalate-free, dishwasher safe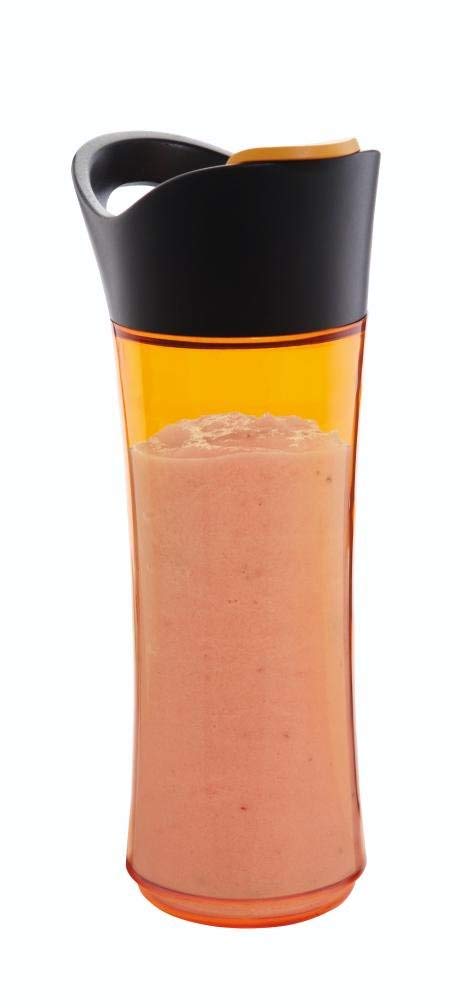 If you have an active lifestyle and appreciate efficiency, you will love this accessory. With a motto like Get up. Get blending. Get going. it is easy to understand how this is one of the most popular smoothie cups for traveling.
Blend your favorite smoothie or shake right in this 20-ounce BPA-free and head out the door; fits in most car cup holders
Stylish enough to carry with you throughout the day to stay hydrated; the hook on the lid makes it easy
20-ounce BPA-free plastic sport bottle is dishwasher-safe, along with the lid
Works with Oster my blend blender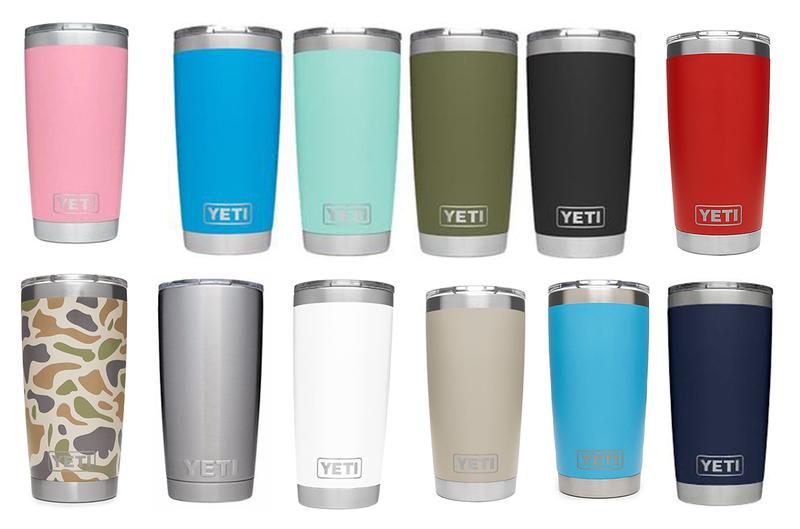 This quality built tumbler is great to use for carrying coffee, ice tea or smoothies around. It keeps the beverages hot or cold for hours and the stainless steel, no sweat design adds a nice touch. The tumblers are BPA-free and dishwasher safe.
This is such a beautiful and functional tumbler! Each part, silicone, wood, and glass is very well made-thick and sturdy. They easily come apart for convenient hand-washing. The vibrant colors add a nice touch.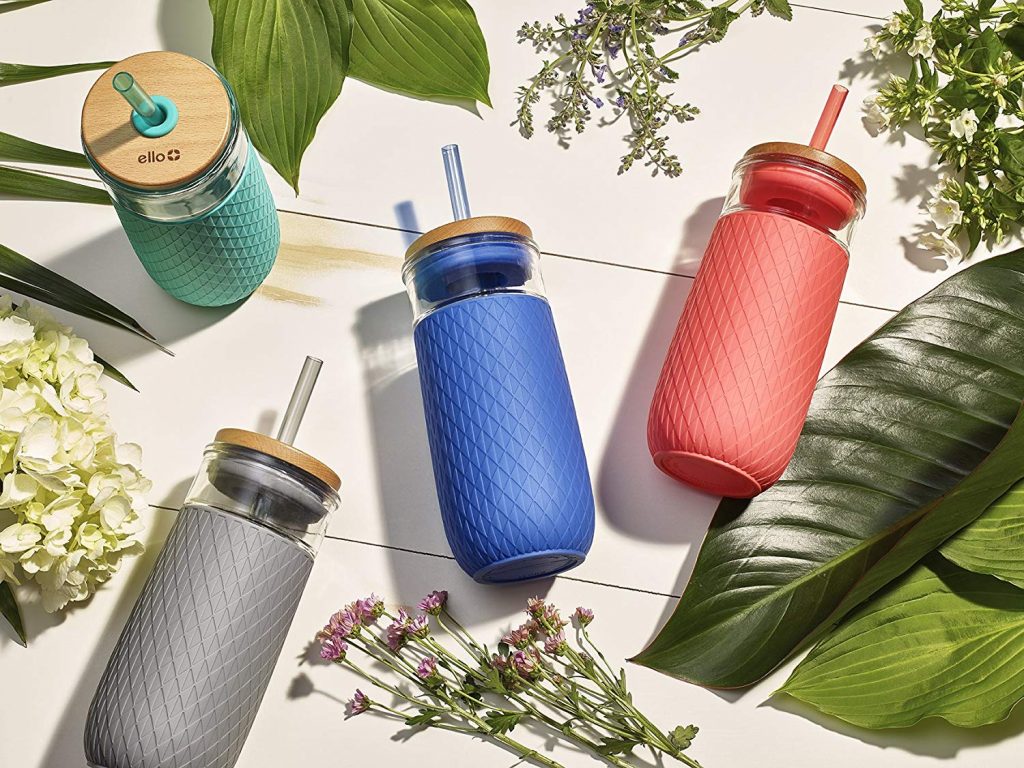 18 oz glass tumbler made of odor-free, stain-free, and clean tasting glass
Splash-resistant friction fit lid for on-the-go
A silicone sleeve protects against chips and cracks.
Easy Cleaning: Tumbler is dishwasher safe; the lid should be hand-washed
All parts are BPA free
Peace of Mind: Ello's Lifetime Guarantee protects purchases from authorized retailers
Bubba Envy S Vacuum-Insulated Stainless Steel Tumbler with Straw, 24 oz.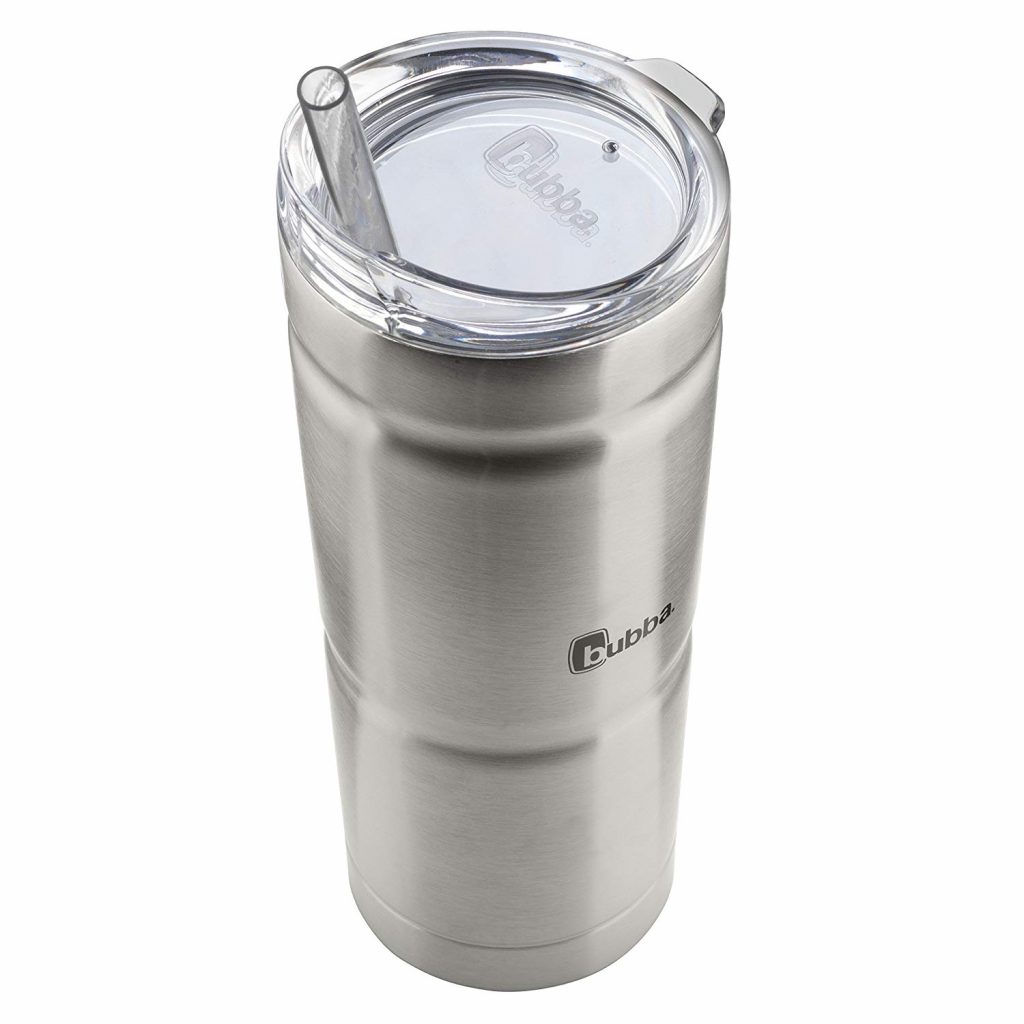 This sleek-looking tumbler is one of the most stylish ways to serve your favorite smoothie to go. It works just fine with coffee, tea, water, frozen Margaritas or whatever other drinks you can imagine.
Dual-wall vacuum insulated stainless steel keeps ice and beverages cold for hours
Removable Eastman Tritan lid is conveniently designed for use with or without straw depending on your drink of choice
Fits most car cup holders
Silicone base pad to prevent sliding
Plastic straw included
Lifetime Guarantee
Easy to clean, leak-proof and with a convenient thermos insulation design, this tumbler is a great way to enjoy your beverages on the go, including smoothies.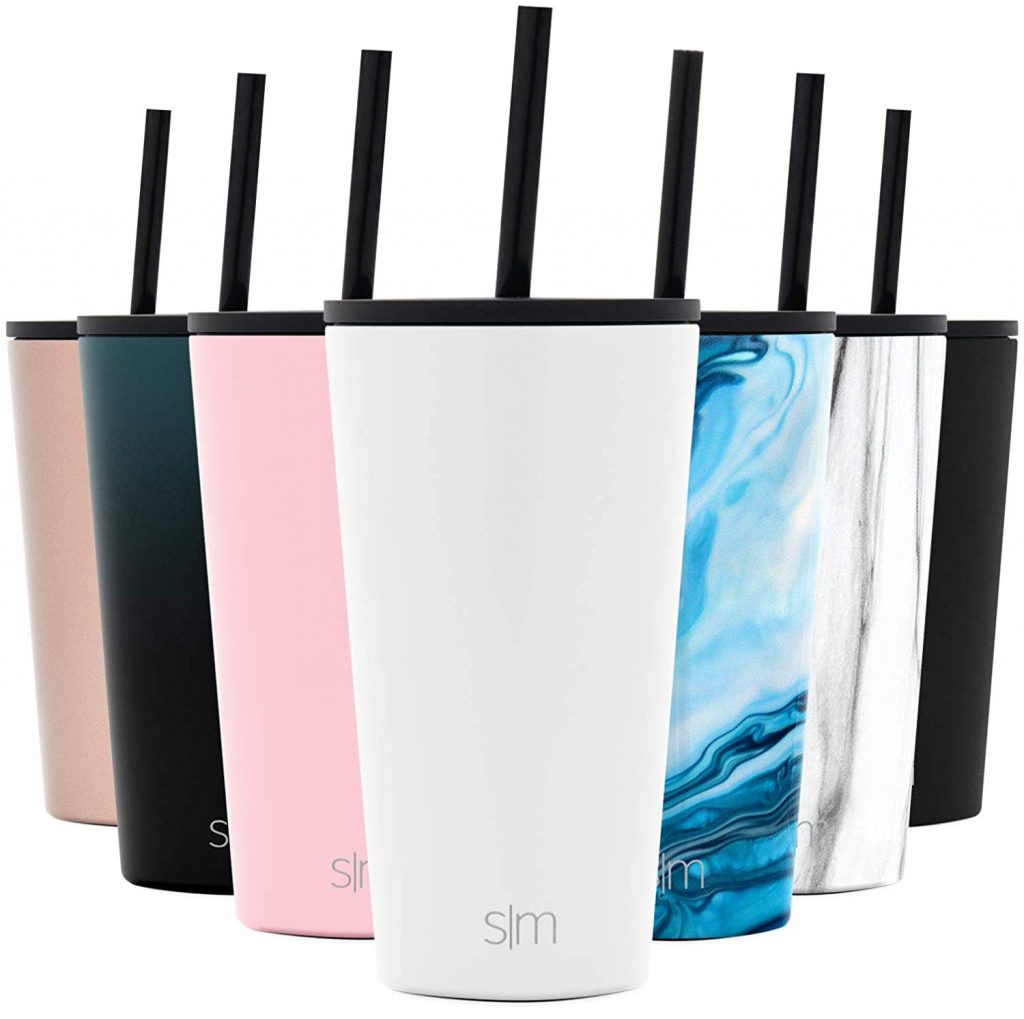 Double-walled and vacuum insulated, keeps your favorite beverage hot or cold for hours
2 Lids Included: Straw lid & Flip lid
Made from high-quality, food-grade 18/8 stainless steel and is coated in a durable finish
The company is committed to donating a minimum of 10 percent of the profits each year to helping others.
This set of 2 Vitamix cups make it a pleasure to take the blended beverages with you. They are double-wall insulated for increased durability.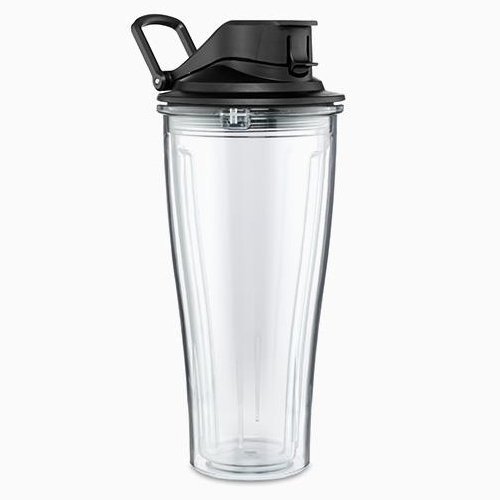 Made from BPA free Eastman Tritan Copolyester
Comes with 2 to-go containers
Made to be used with the S-Series Vitamix machines or on its own
Ready for blending, storage, and travel
Dual-wall insulation transports hot and cold blended mixtures
Traveling with your favorite drinks has never been easier! With this leak prof tumbler featuring a telescoping straw, you can take your smoothie to go and enjoy it fresh and cold for at least 3 hours.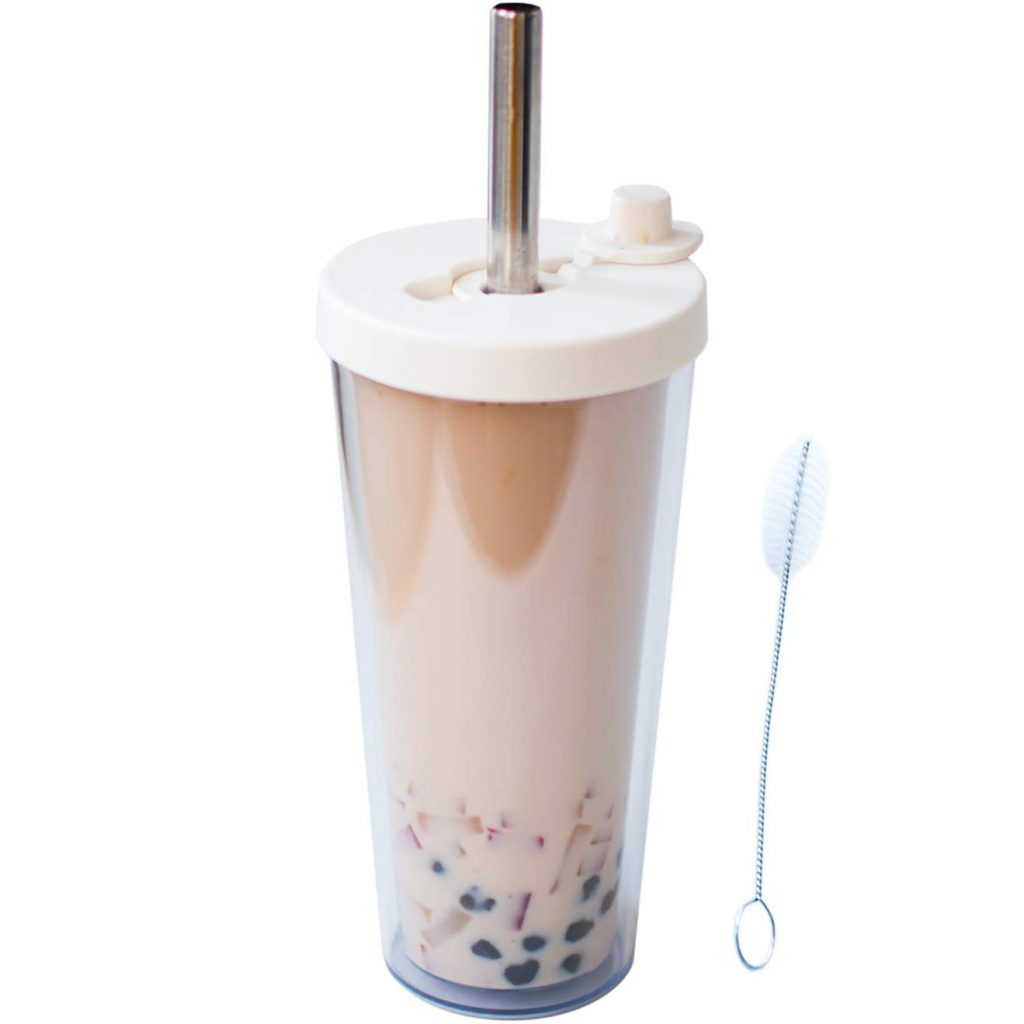 Unique, wide, resealable lid
Accompanied with an extra-wide straw, perfect for all beverages: smoothies, homemade boba, bubble tea, milkshakes and any other brew.
Double-wall insulation technology
Easy to clean – simply rinse and lightly wash with soap after use. The large stainless steel straw can be easily washed with the straw cleaner in the set
Sleek and eco-friendly mentally
It comes with a premium telescopic stainless steel straw and cleaner.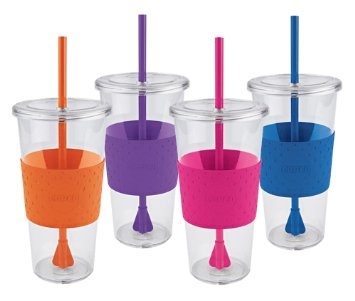 Features
24-ounce cold beverage tumbler in classic iced coffee cup design
Durable BPA free construction
Reusable straw stays put and keeps drinks perfectly mixed
Quarter-turn lid sealing mechanism
Stylish textured non-slip grip in Hot Pink, Purple, Royal Blue & Orange for easy carrying
As you can see, when it comes to best smoothie cups for traveling the market has plenty to offer. The solutions are modern, eco-friendly, durable and strive to make your life easier, keep you hydrated and healthy. Consider your lifestyle and budget and choose the one that makes you feel the most enthusiastic about taking your smoothie with you.