Blenders are some of the most versatile kitchen appliances. They are easy to use and can help you cook a delicious meal, a creamy soup or a healthy smoothie in no time. The internet is abundand in recipes and even the less experienced cooks can prepare some great dishes.
If you wonder why you should find the Best Hand Blender for Smoothies the answer is pretty simple: it can help you with small and quick tasks without the bulky experience of a jug blender or food processor. Use it successfully to prepare baby food, creamy soups, a delicious barbeque sauce or a refreshing summer drink. Some of the Best Hand Blender for Smoothies have multiple speeds and functions, whisks, grinders, measuring beakers and more.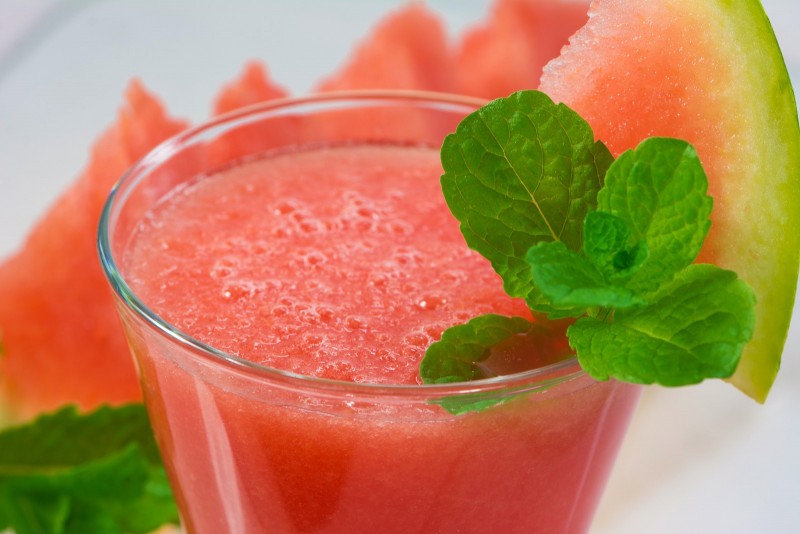 Cuisinart is an important produder when it comes to blenders, food processors and other kitchen appliances. The Cuisinart CSB-75BC Hand Blender is a best seller with incredible pozitive reviews, great price and handy functions.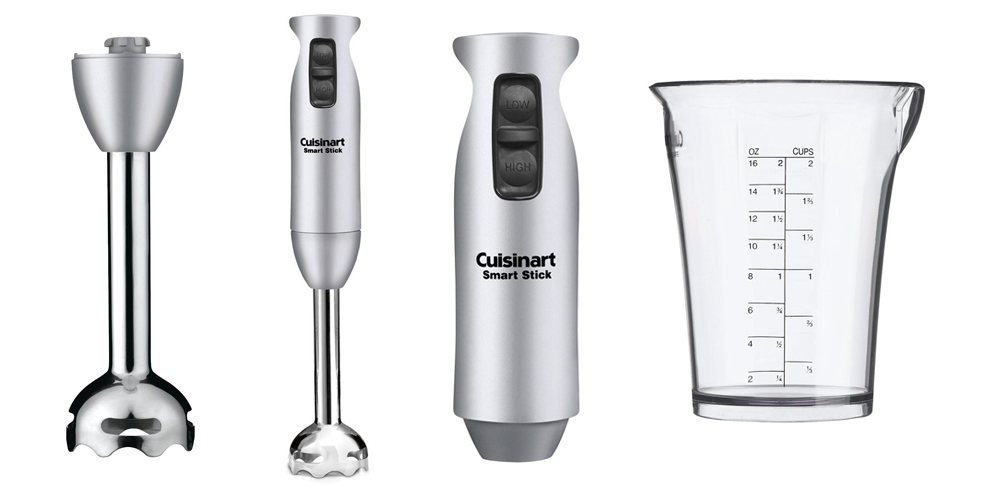 Features
2 speeds (low and high) for all your blending tasks
Stick design reaches into pots, pitchers and bowls to extend blending options
Ergonomically designed grip offers comfortable hold and more control while blending
Operates with a one-touch control for easy, one-touch blending
Dishwasher-safe blending shaft and beaker make cleanup effortless
15 colors available to customize every kitchen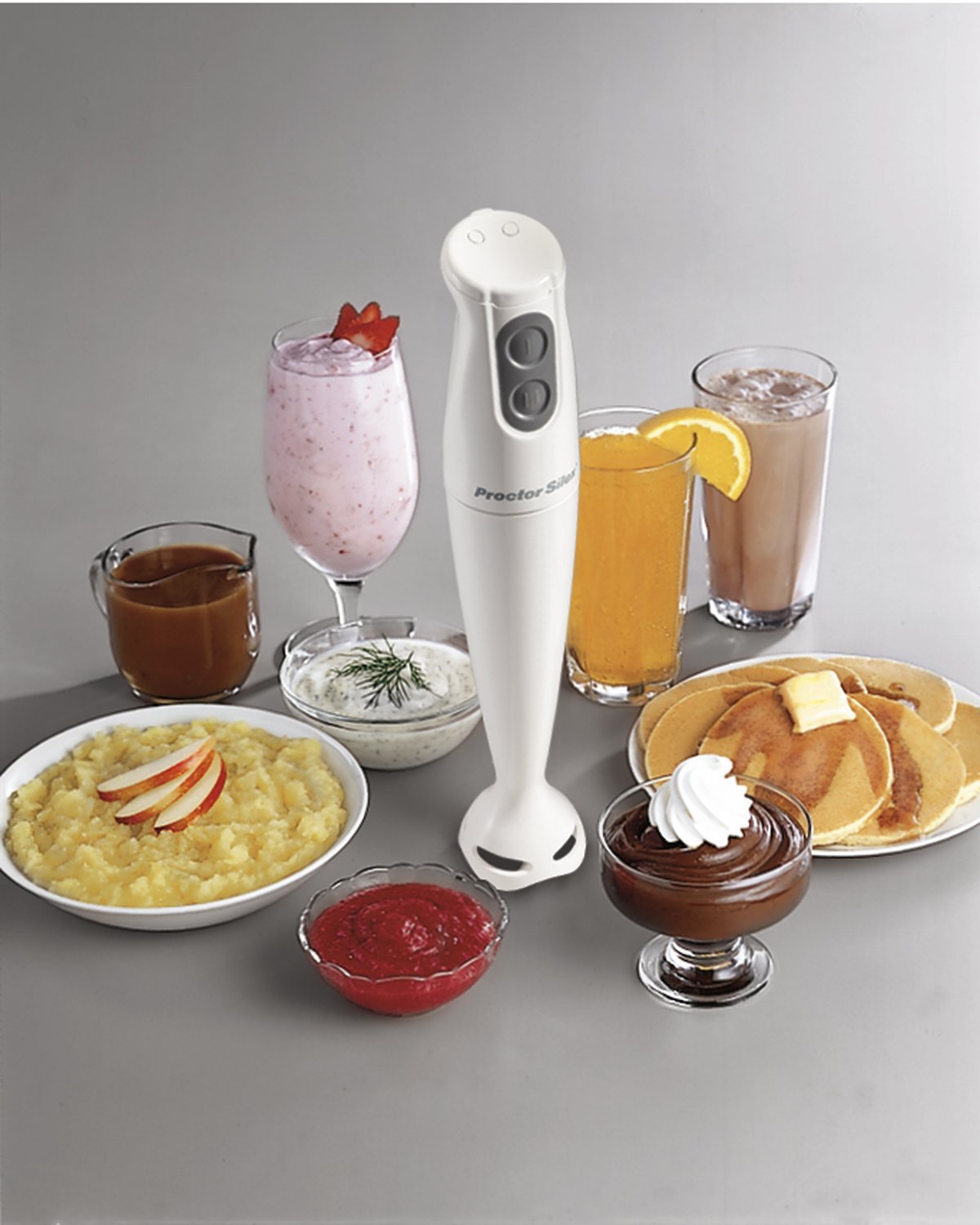 This powerful little immersion blender is  perfect for making emulsions, dressings, sauces and pureeing soups. It is not great for crushing ice or other heavy duty tasks. You can successfully use it for smoothies  it does a decent job with frozen fruits. Priced at only $16.13 it is a handy tool to have around in any kitchen.
Features
Quick and easy to use
2 speeds for all blending needs
Ergonomic grip for easy handling
Stainless steel blade
Extra-long 5 ft. cord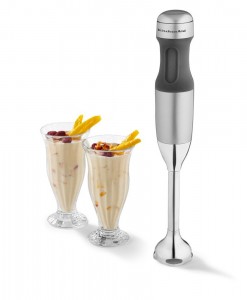 The Kitchenaid hand blender is made of more heavy-duty metal. It works just fine for longer periods of time. The KitchenAid KHB2351CU comes with some extra accessories to help you blend, chop and mix faster and cleaner.
Features
Blend, crush, chop, puree and whisk
Removable 8-Inch Blending Arm with Fixed Blade
Soft Grip Handle
Whisk Attachment
2 1/2-Cup BPA-Free Chopper Attachment with Lid
Canvas bag for storage
The 200-watt Hamilton Beach hand-held blender will make you forget about the heavy mixer and special bowl. Blend drinks right in the glass, puree soups in the pot and whipe cream in a portable bowl. This is the perfect appliance to blend small amounts. Use it at home or take it with you when you travel to help you keet a healthy routine. It has two helpful attachments: an 8-1/2-inch sharp-bladed blending wand with a protective plastic sleeve, and a 7-1/4-inch stainless-steel whisk. Both attachments twist securely onto the power handle and easily remove for hand washing.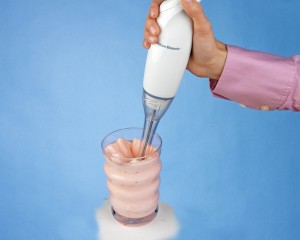 Features
2-speed 200-watt hand blender with 2 attachments
Blending wand purees soups, whips milk shakes
Stainless-steel whisk perfect for batter and whipped cream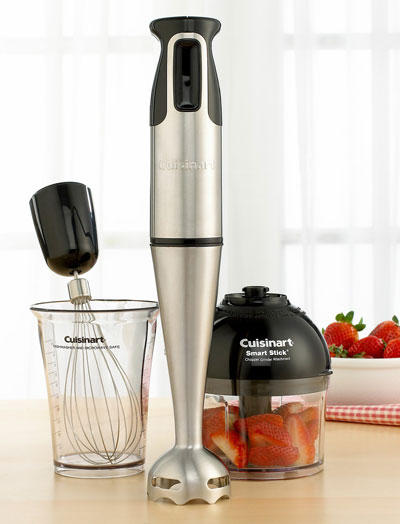 Cuisinart products are well known for their good looks and unquestionable reliability. This model comes with some very handy attachments: a blender attachment, a whisk attachment and a chopper/grinder.
The two blending cups that come with the package, designed for easy gripping and drip-free pouring are also very useful:  to blend drinks, shakes, salad dressings and more. They are microwave and dishwasher safe.
Features
Brushed stainless steel housing with embossed Cuisinart logo
Includes blending, whisk, and chopper/grinder attachment
Also includes 16-ounce mixing/measuring beaker
Powerful 200-watt motor
Push-button control for continuous or pulse action; comfort grip handle
With a powerful, surprisingly quiet motor (210W), the Panasonic MX-SS1 is a versatile blender with multiple attachments. You can use it with the sharp stainless steel blades, swap for the wire whisk or attach it to the mini food processor. The motor has adjustable speeds.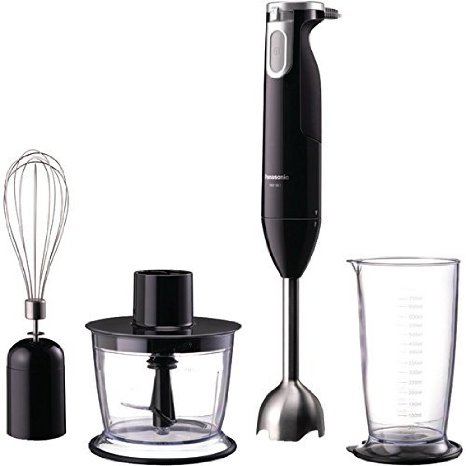 Features
Blend quickly and efficiently with sleek, high-performance immersion blender
Four-Blade cutting system mixes, purees, chops and crushes with ease
Durable, stainless-steel blender shaft easily reaches into deep bowls, pots and pitchers – safe for hot/cold foods and beverages
210W motor with step-less control delivers powerful performance for smoothies, sauces, soups, baby food, nuts and more
Ergonomic, sure-grip handle provides safety, comfort and control
Tefal is an European Company, number one name in non-stick products and small appliances, operating in more than 120 countries.Committed to make household tasks easier and cooking results better, Tefal constantly brings technology and innovation in our lives. ActiFry, the AirBake baking range and Thermo Spot, which ensures your pans are always the perfect temperature to start cooking are Tefal's biggest accomplishments.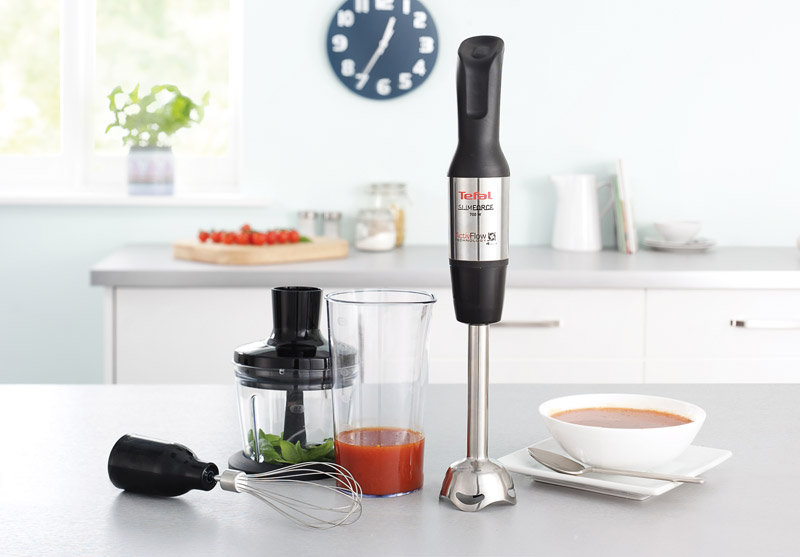 Tefal's Slimforce is a hand blender with efficient Activflow 4 Blade Technology: it stands two serrated inner blades for optimal ingredient grabbing and two serrated outer blades in a dual altitude for extreme mixing. The powerful 700W motor combined with the latest ActivFlow technology results in quick and effective blending, 20% more efficiency.
Features
Activflow technology with 4 blades
Highly ergonomic: easy to hold thanks to the soft touch material and the new handle design
Power: 700 watts
2 speeds
Includes a 500 millilitres mini-chopper and a metal whisk