"Quiet blenders" is rather an oxymoron than something you would likely enjoy in your daily life without compromising on power and the end result.
Though many acknowledge the fact above, a rough night, too much partying or maybe the baby that hardly slept during the night make the perspective quite attractive.
Of course, you shouldn't compromise power for a more silent model! The ideal situation would be to find a balance so continue reading this post if you are looking for the best, most quiet blenders.
Most Quiet Blender Models
Commercial Grade, Quiet Blenders
This Hamilton Beach model is the closest you get to a commercial blender experience without breaking the bank. The two-piece sound shield minimizes blending noise, even when using frozen ingredients. The product gets bonus points for the 4 Program settings Smoothie, Ice Crush, Puree, and Clean. Finally, the 1500W power motor facilitates the customized experience and smooth results.
PROS:
Quieter than a traditional blender without compromising power
Removable, two-piece sound shield
1500 W motor power, Speed Control from 3,000 RPM to 18,000 RPM
Glass jar, stainless steel blades
4 Program Settings Smoothie, Ice Crush, Puree, and Clean
CONS:
The blender's generous proportions can make it harder to maneuver and store
Vitamix is like an urban legend in the blenders world. If you are serious about your smoothie diet, want to up your kitchen's vibe or simply love nice, shiny, professional appliances this is a top choice.
The model uses a plastic cover to dampen the noise and manages to secure a comfortable environment for both your staff and customers or the household, whatever the case.
PROS:
Versatile: Featuring 6 program buttons, 34 optimized programs, and 93 variable speeds, the Quiet One Blender ensures its users can make exactly what they want
Easy to use
CONS:
the blades are non removable and can make cleaning annoying
Steep price
Thick and strong that is what comes to mind when first checking out a Blendtec blender. The Pro 800 is capable of achieving 3.8 peak horsepower and operates with precision at 11 pre-set speeds. A sealed sound enclosure lets you operate your blender at a significantly reduced volume.
PROS:
Blunt Blade made from cold-forged, hardened steel. It is up to ten times stronger than other blender blades. Bonus: it can be touched and cleaned without injury.
Easy Interface
Processes hot food
Patented WildSide+ jar features a unique fifth side, making it perfect for bigger, faster blends.
CONS:
Medium Range, Quite Blenders
This Instant Pot blender is as versatile as a blender can get! With 10-in-1 hot and cold applicability it covers most of the classic kitchen duties. It's a breeze to make smoothies, hot soups, margaritas, baby food, dips, nut butter, salsa, etc with this blender. The model is accompanied by some useful accessories: a patented 3-in-1 food tamper, measuring cup & cleaning brush, and a food-safe, machine washable strainer bag for making soy, rice, oat, and nut milk.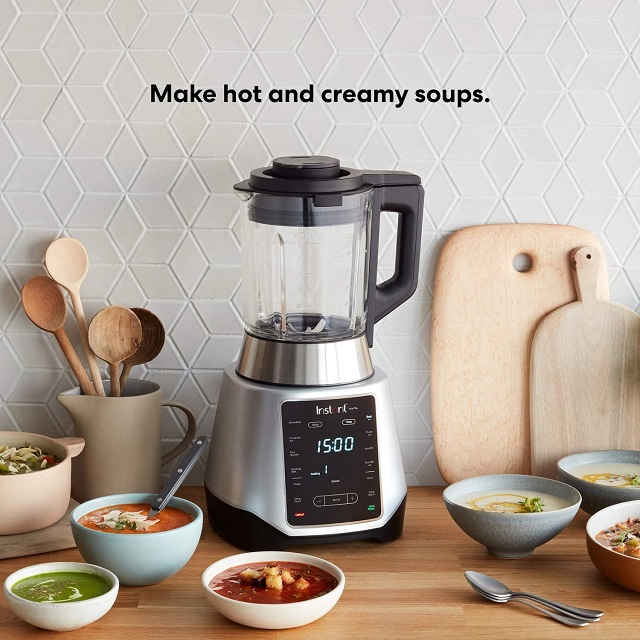 PROS:
The super heavy-duty motor develops up to 26,500 RPM + 10-speed custom control
Works for both hot and cold dishes
Bonus juicing kit
Self-cleaning function and a cleaning kit
CONS:
Budget Friendly, Cheap, Quiet Blenders
Besides saving up space, this Muller hand blender has a quiet operation even at the highest speed. It has 9-speed level options and a decent, 500-watt motor. This aspect helps the blender do a good job with smoothies, soups, beating, and whisking different ingredients. It is not recommended for ice. It comes with a milk frother and whisk attachments.
PROS:
Easy to use and clean
Great price
Includes easy to change accessories for milk foam and whisk
The long stainless stem can be used in deep pots
CONS:
It is not cordless
It is made in China, like most appliances these days but the name can be misleading
As you can see there are quite a few options when it comes to decently quiet blenders. Make your pick but do not compromise on power and functions just to meet one aspect. It is unlikely you will enjoy your smoothies with a hangover or a baby for such a long time! 🙂