If you are looking for the Best Blender Food Processor Combo, depending on your budget and expectations, you might find it hard to choose between the multitude of models that retailers provide. To help you make the optimal decision we came up with a selection of the finest models on the market. These models have been tested and received great feedback from their owners.
Before we begin we have to clarify an essential aspect: there are 3 different types of food processors and you should keep in mind the main purpose you intend to use it for:
Food Mixers
These models are often used to mix, blend, grate, etc. Depending on the number of accessories in the package, they can be very complex. These are the most popular in kitchens. They help in many areas but some amateur cooks may expect even more!
Pastry Mixers
Specifically designed for pastry, these robots have the main function of kneading and mixing. They are often equipped with powerful motors allowing them to face the most compact pasta.
Food Processors
These types of robots are extremely versatile! They facilitate all your preparations, in addition to having all the blender features (and sometimes pastry). You basically need no other equipment to prepare hot meals, soups, sauces, purees, smoothies, etc.
Now that we have clarified these aspects and you probably know what you need in order to make your life easier in the kitchen check out the following selection of the best blender food processor combo.
If you want the Ferrari of the blender-food processor segment, search no more! The Ninja BL770 makes it hard to compete when it brings such value to a kitchen! The 72 oz. XL blending pitcher is ideal for making large batches of resort-style frozen drinks. If you want smaller quantities it has you covered, with two 16-Oz. Nutri Ninja Cups with To-Go-Lids. They allow you to prepare smoothies/drinks directly in the cup. And crème de la crème, the 8-cup food processor bowl with 2 dedicated blades provides even chopping for food prep and can make 2 lbs. of dough in 30 seconds.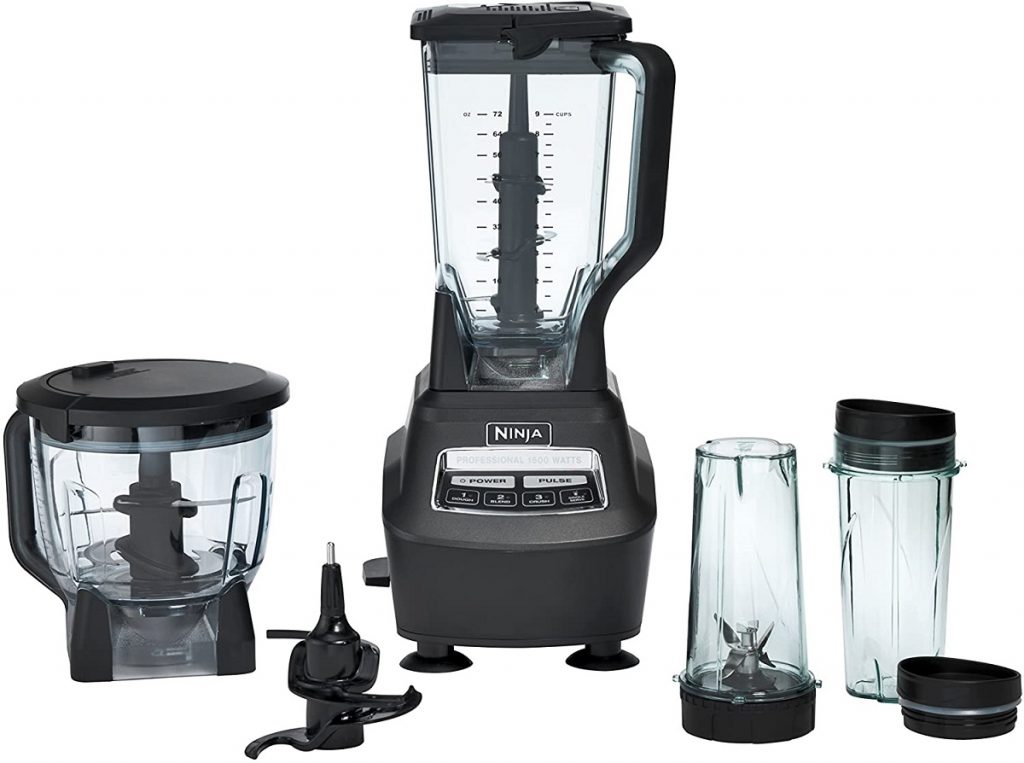 Features
72-ounce pitcher
2 horsepower, 1500-Watt Motor Base,
Eight cups food processor bowl
Two 16 ounce Nutri Ninja cups with to-go lids
Dishwasher safe and BPA free parts
This is a nice-looking, versatile, compact, budget friendly food processor. It is rather great for  for occasional use than for heavy-duty handling.  The model includes various cutting and grating blades, a full food-processor bowl and a blender pitcher in high-quality poly-carbonate. The bowls are made of plastic but they seem sturdy and the finishes are good.
Features
Multipro system offers versatility with a variety of accessories and attachments
Powerful energy efficient 400w motor with unique patented dual-drive system
2.1Liter (9 cups) bowl capacity 1.2l (5 cups) working capacity
1.2L (40 oz.) High-speed blender ideal for soups, smoothies and drinks
Solid brushed die-cast metal body
This model will make blending and chopping through your ingredients a breeze! It has four settings to help with dividing lighter tasks- milkshakes or salsa- and heavy-duty ones like crushing ice or frozen ingredients. It is a powerful blender that will puree to the smoothest consistency any type of blend. The performance-to-value ratio is almost unbeatable!
Features
700 Watts of peak blending power to easily handle a variety of blending tasks.
12 blending functions.
Unique, no-mess pouring spout with hinged cap.
40 oz. dishwasher safe, BPA-free glass jar.
Three cups chopping bowl dishwasher safe, BPA-free glass jar.
Three-year limited warranty.
Oster has established a good reputation for manufacturing great appliances within an accessible price range. This model is very sturdy and functional, great for smoothies, chopping ice cubes or frozen ingredients. The food processor, though small it is great for preparing salsa and chopping veggies! The thick glass pitcher and the metal base give it a high end look.
Features
Powerful 450 watt motor of ice crushing power with 8 speeds
6 Cup dishwasher safe and scratch-resistant glass jar
3-cup BPA-Free food processor attachment included
Stainless Steel S-blade to make food prep easier
Dishwasher safe
Crush Pro 4 Blade – Stainless Steel
4-point design pulverizes and chops with precision
Oster 10 Year All-Metal Drive Limited Warranty for lasting durability
This little appliance will change your life. The 450-watt motor will help you chop, slice and blend (even ice cubes) every ingredient in no time! The pulse function is particularly handy! Make a delicious salsa with just a push of a button.
Features
Patented ninja® technology
Dishwasher safe parts
450-watt motor
Crush solid ice cubes into fluffy snow
Interchangeable 450 Watt Power Pod with Chrome Button can be used with all three containers.
Frozen Blending
Perfect, Even Food Processing and Chopping
3 conveniently sized jars
Anti-spill splash guards, easy-flip pour spouts, and no-slip bases
A powerful, 800W motor make the VREMI Food Processor/Blender Combo one of the most attractive options on the market when you are looking for an appliance to back up your need for a healthy lifestyle cooking. It comes with 5 different stainless steel blades for precise fine slicing, coarse slicing, French fry cutting, fine shredding, coarse shredding.
Features
Crafted from ultra-durable die-cast aluminum with high-quality stainless steel blades
2 Speed control
800W motor
Equipped with both a 1.6L pitcher and a 3.5L blender bowl, as well as 5 stainless steel blades
Designed to complement any kitchen decor
STAY SAFE: Overheating Protection automatically shuts the power off when the dangerous overuse is detected. Double Safety Lock eliminates risks associated with loosely attached blenders
This item is covered by a 12 Month Limited Manufacturer Warranty
If you decide it is time to bring more fruits and veggies in your diet, the Montel Williams blender/food processor combo is the ideal partner! It is an amazing blender with a superior motor of 1200W that will help you grind, chop, slice and blend through any ingredients. Making juices, smoothies and soups was never easier!
Features
easy to use
BPA-Free pitcher and stainless steel uni-body blade that includes four super sharp serrated blades
Makes hot foods like soups, sauces, coffees, and fondues with centrifugal friction to cook foods naturally
Food emulsifier pulverizes and liquefies whole fruits and vegetables in just seconds. New motor with almost two horsepower and 1200 watts of power
Makes cold foods like frozen drinks, smoothies, sorbet and ice cream