Investing in a commercial smoothie machine could be the start of a very popular, profitable and tasty business. But this decision comes with a price tag that might exceed some budgets. A professional blender is a must-have in any restaurant's kitchen or any bar that takes pride in their signature cocktails.  Depending on your needs and desires, but especially on your budget, you can find numerous models designed to ease your work. More costly models come with different accessories, multiple blades and cutting discs that make your life easier.
We have gathered in our post today some very attractive models that would look great in a high-end kitchen and also provide enough power to deal with commercial use!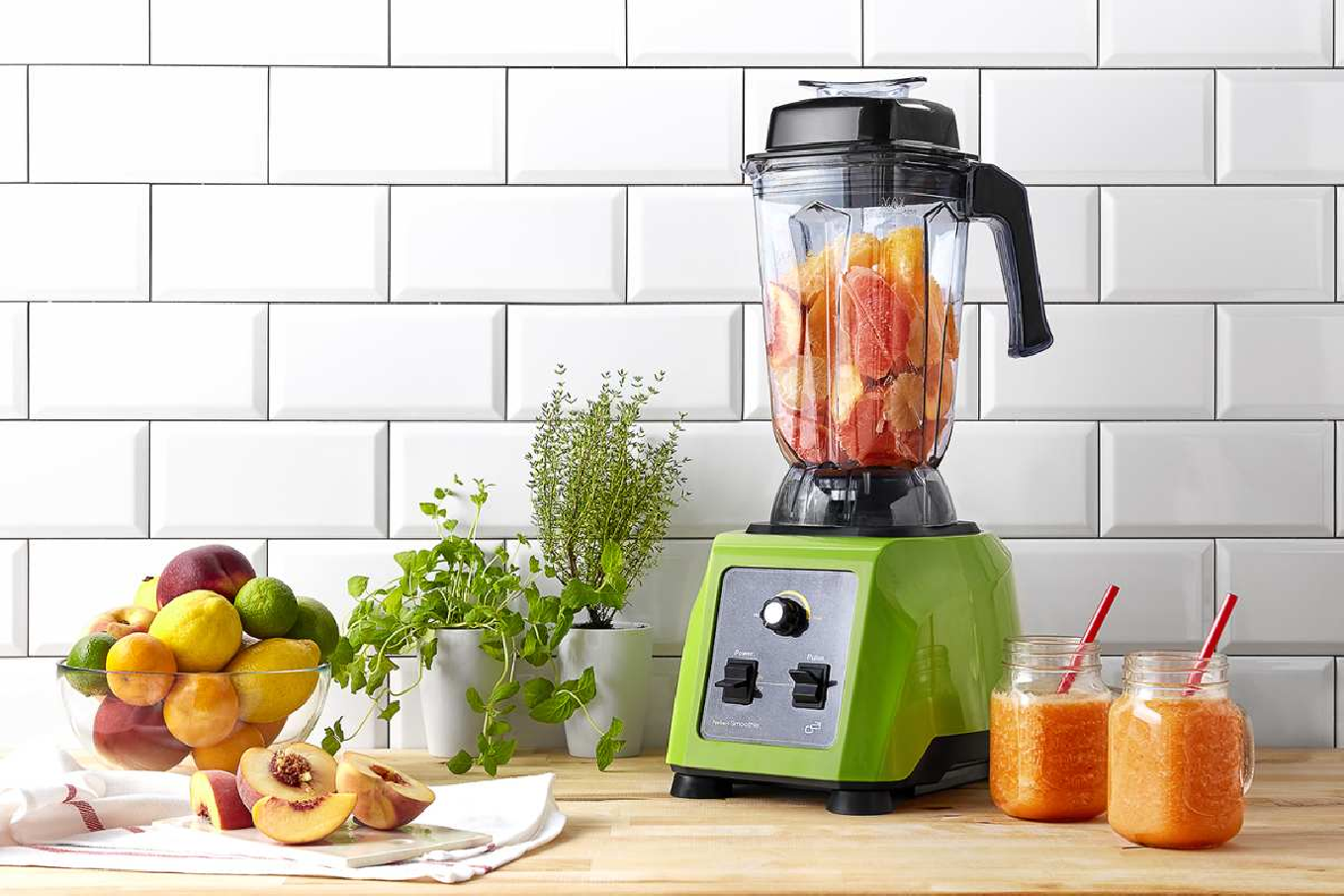 Professional Smoothie Maker Machine Models
If you love huge cost savings but still dream of top performance, the Cosori professional smoothie maker machine is a serious contender. Quieter than Vitamix, it brings more features to work and if you are not obsessed with brands you can make a great deal buying it.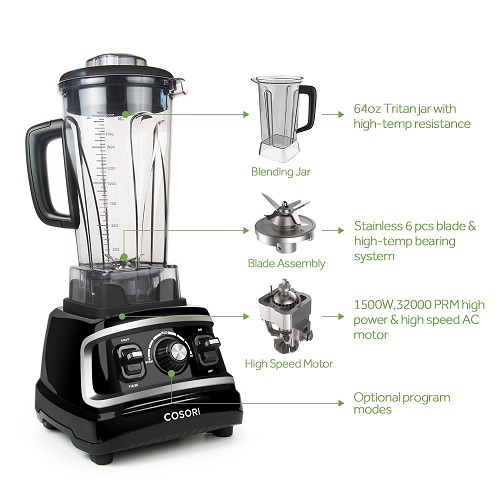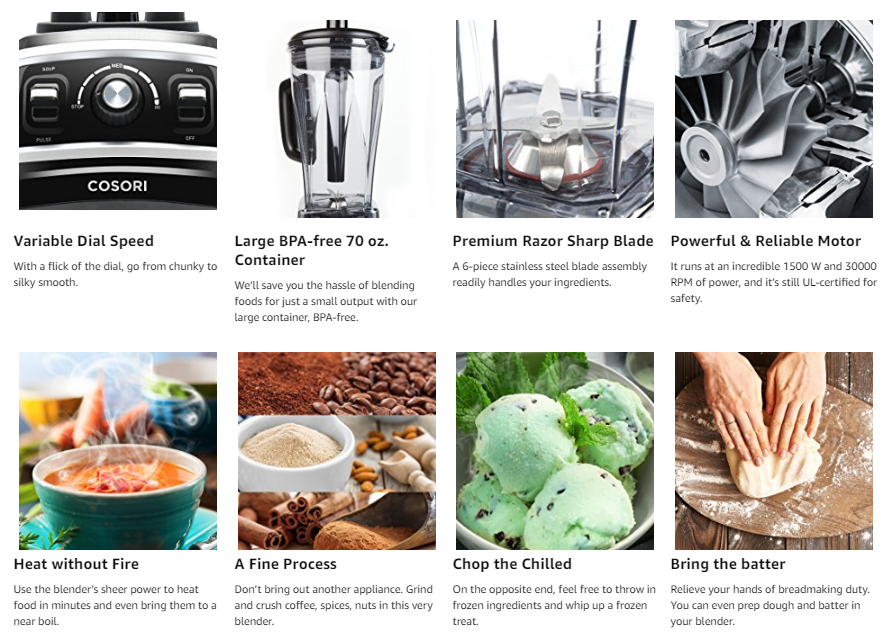 Features
Commercial-grade 2 HP, 1500W motor,30,000 RPM.
Stainless steel 6 premium razor-sharp blade assembly
70oz family-size BPA-free container with an extra 27oz personal travel bottle(with To-Go Lids)
Variable speed control, pulse feature & soup function; Tamper included
Pitcher, lid and travel bottle are dishwasher safe
If you prefer multiple options and versatility this is the blender for you.  This blender has 8 preset programs such as soup, smoothie, and juice therefor using it could not be any simpler! It crushes ice effortlessly and makes green smoothies in seconds. What makes this professional smoothie maker a chef's dream:  a powerful motor, 6 stainless steel blades and a generous glass pitcher!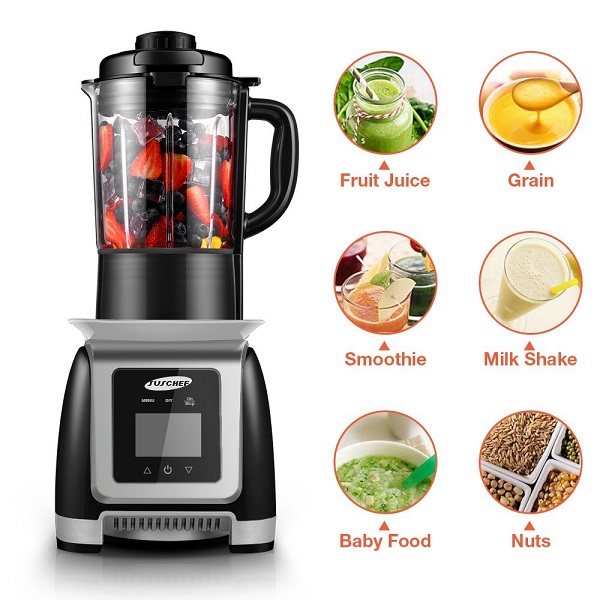 Features
Equipped with a powerful motor capable of 35,000 RPMS
6 stainless steel blades design pulverize every ingredient as fine as you can imagine
The Juschef high-speed blender integrates different functions of juicer, smoothie mixer, soy milk maker, soup and baby food maker, meat grinder into one blender.
8 PROGRAMS: Juschef professional blender has 8 programs: Juice, Porridge, Soup, Soy milk, Smoothie, Congee, Simmer and Heating. Besides, it also has a DIY option for a customized experience.
BPA free, the big 56oz pitcher is made of high borosilicate glass- sturdy and safe
A true soulmate for any cooking enthusiast, both professional or novice, this blender transforms the meals preparation into a dynamic process. It is a heavy duty food processor that crushes through ice, pulverizes veggies for soup, minces meat and even makes nut butter or other spreads.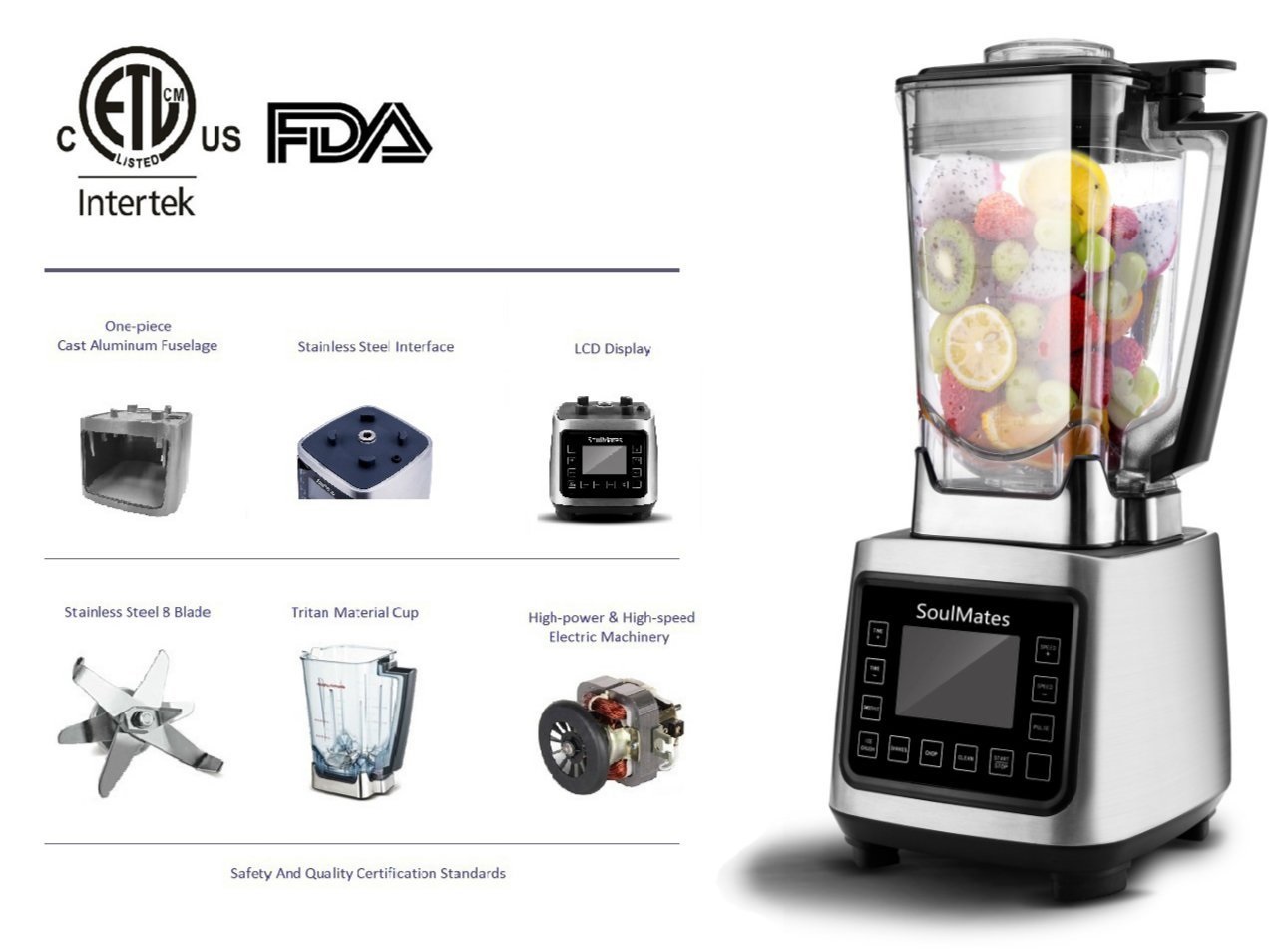 Features
8 stainless steel, sharp blades design at the bottom of the jar
1400W motor reaches 27,000rpm pulverizes though ingredients with ease
Easy to use and clean: intuitive LED touchscreen design; every removable part is safe to clean in the dishwasher
100% BPA free and durable stainless steel blender prevent thermal damages to the motor with the overheating protection mechanism
70 Ounce BPA-free pitcher perfect multiple people

If you want the Ferrari of all Blenders Vitamix A3500 won't disappoint! With years of experience and innovation behind, this model is top of the line: touch interface, 5 preset programmes and a programmable, built-in timer transform it into the perfect kitchen assistant. Especially relevant for this model's expertness: the 2.2 HP motor and 10-year factory warranty that make sure you'll have plenty of fun with your new acquisition for years to come!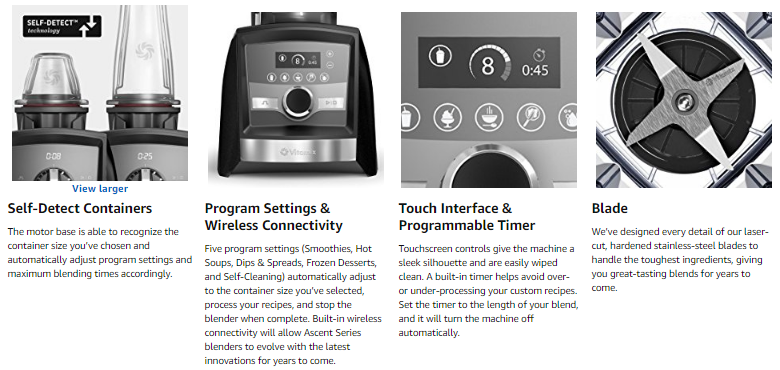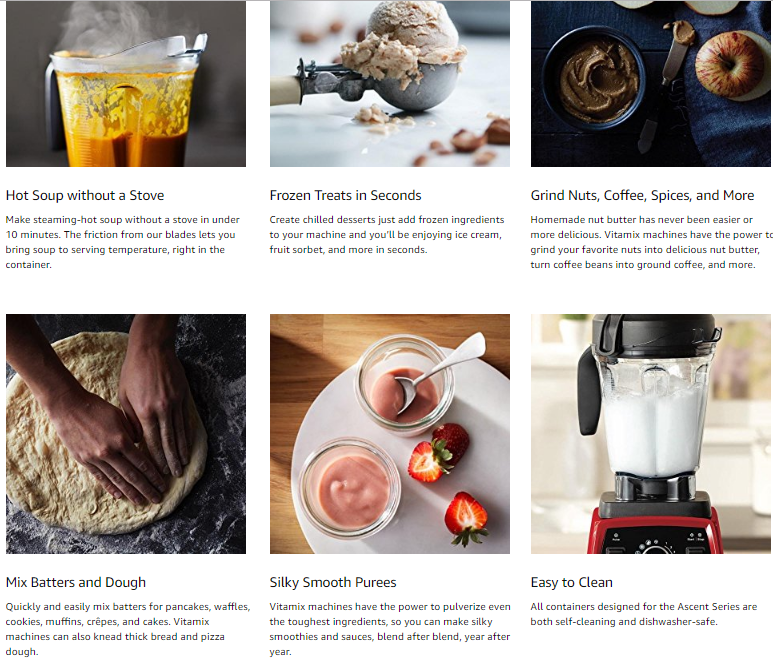 Features
Five program settings ensure walk-away convenience and consistent results. (Smoothies, Hot Soups, Dips & Spreads, Frozen Desserts, and Self-Cleaning)
Touchscreen controls give the machine a sleek silhouette and are easily wiped clean.
Variable Speed Control and Pulse feature
Built-In Wireless Connectivity allows the motor base to read the container size you've chosen and automatically adjust program settings and maximum blending times accordingly.
A built-in timer helps avoid over- or under-processing your custom recipes.
Pair with Any Self-Detect Containers: add a range of compatible container sizes, building a customized blending system designed to fit your needs.
Since some of us (the majority) can't justify spending over 400$+ on a blender this Ninja Professional model provides top performance without breaking the bank. A sturdy 1100 watts motor with 3 speeds, pulse, and single-serve function is ready to pulverize ice to snow or blast through the toughest ingredients, whole fruits, seeds or stems.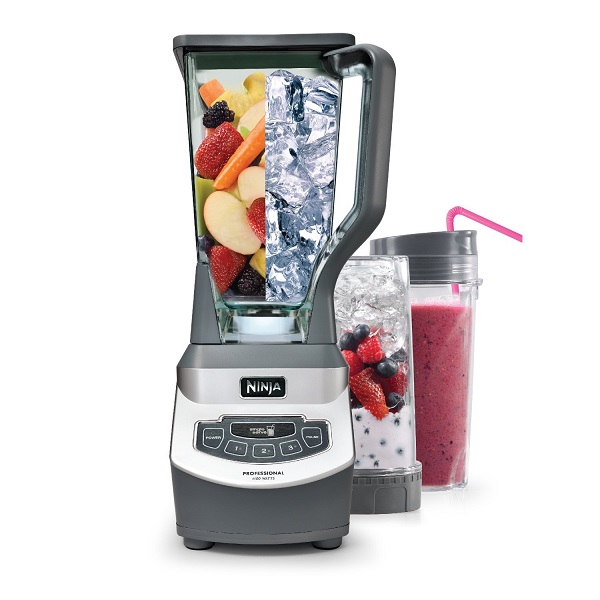 Features
1100 Watts of power
72 oz. XL Pitcher with Blade and Lid
(2) 16 oz. Nutri Ninja® Cups
(2) Single Serve To-Go Lids
Single Serve Blade Assembly
This blender comes with an incredibly powerful motor capable of developing 39,000 RPM hence pulverizing anything in under 30 seconds! Use it to make juices, ice cream, nut butter, baby food, salsa, soups! Very easy to use and clean! A 10 years warranty allows you to enjoy a worry-free experience!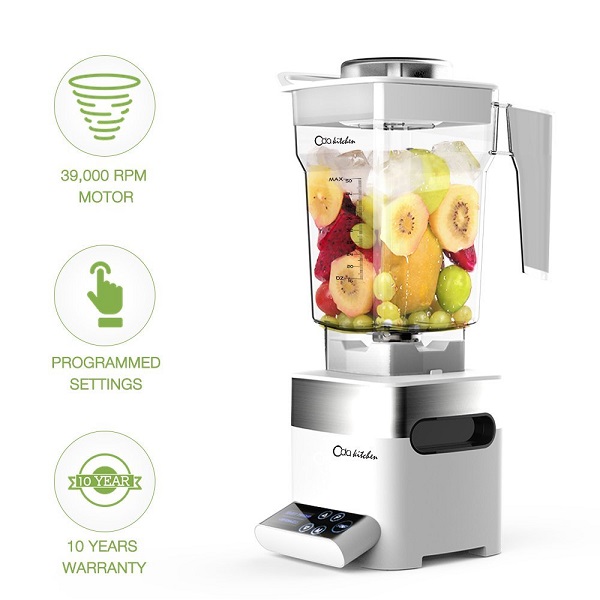 Features
World's first-micrometer blender for smooth-as-silk smoothies
Powerful motor, with an unrivaled high speed of 39,000 RPM
Carbon steel blade with both blunt and sharp side, creating greater durability and strength
Programmed settings for ease of use and time saving
BPA-free Tritan square-designed pitcher
10 YEARS WARRANTY & LIFETIME CUSTOMER SUPPORT
6 Stainless steel professional blades and 1400W superpower motor that develops 30,000RPM bring this model to #1 New Release in Countertop Blenders! Automatic Modes (Ice crush/Smoothie/Dessert) and Manual Modes (Low/Middle/High) provide support for virtually any type of blend.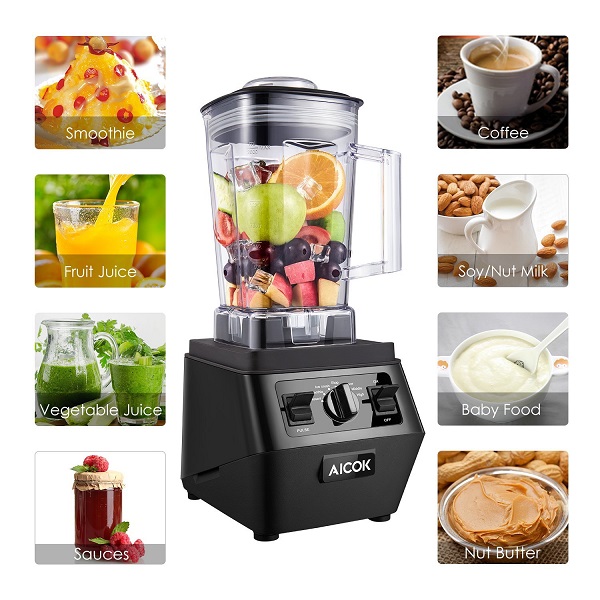 Features
1400W Superpower motor capable of 30,000RPM
6 stainless steel pro blades
Intuitive Design – Automatic Modes (Ice crush/Smoothie/Dessert) and Manual Modes (Low/Middle/High)
Large 70oz Pitcher, BPA-free
Safety Performance – (1) Safety switch at the square base is designed to make sure the pitcher is assembled properly. (2) "Stop" position serves as the reset button, in case of careless operation. (3) Overload protection and a cooling fan help you use the blenders more safely
2-Year full warranty (10-Year warranty for motor only)
The commercial-grade, 2.7-peak horsepower(1500W) motor is capable of transforming any ingredients into creamy blends. Variable speed control and Pulse function come in handy when you want to take your cooking a step further.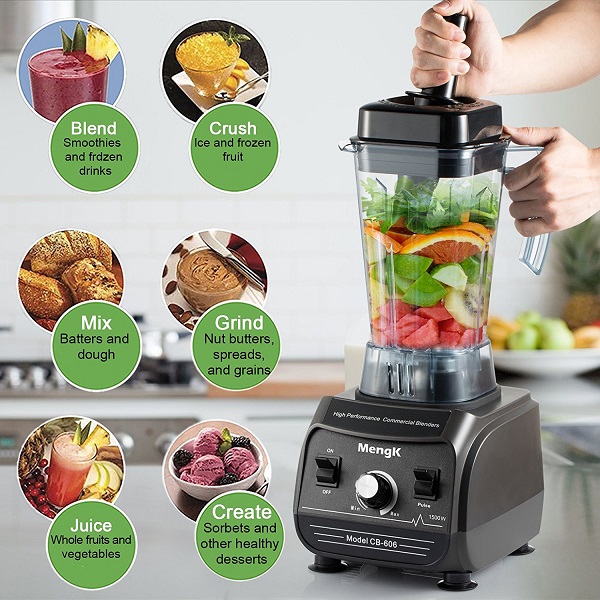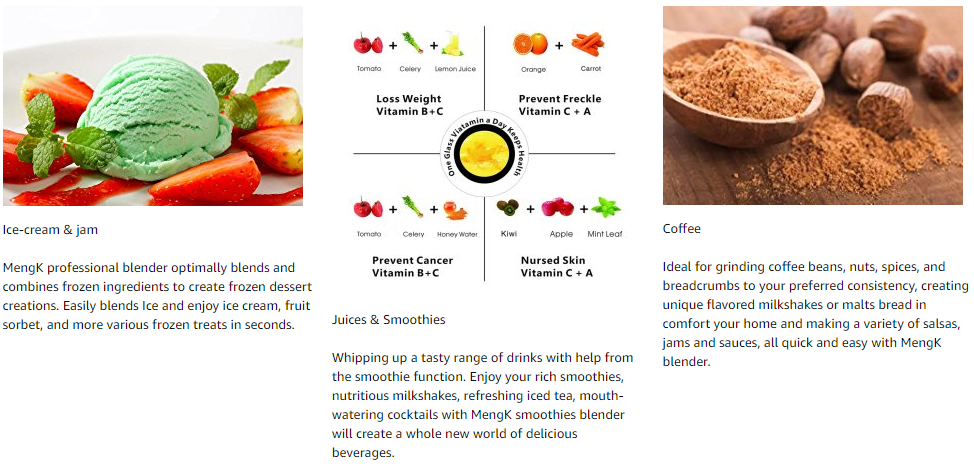 Features
Commercial grade motor 2.7-peak horsepower(1500W) , rotational speed of up to 27,000 r/min
Variable Speed Control and Pulse feature
Large capacity(64-ounce) BPA-free Container
3-year warranty & 30 days money back guarantee.
This strong, heavy duty model boasts a 2.5HP motor capable of 32,000RPM which means it can blend to virtually anything! A generous 1.8 liters capacity glass blender ensures a productive experience. It includes an 800 watts heating power which comes in handy when you want to prepare hot soups, soybean milk or, why not, a freshly ground coffee.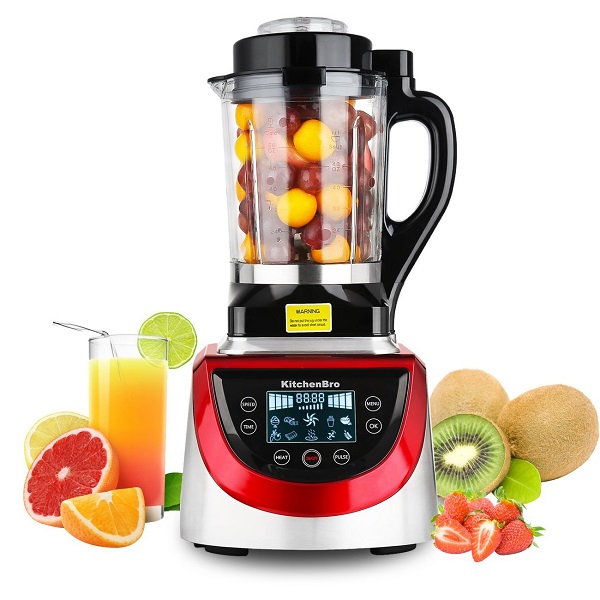 Features
Heating blender
Food grade stainless steel blades
1.8 liters capacity glass blender
Strong 2.5 HP motor develops 32,000 r/min
Speed, Time, Heat buttons.
LCD display with intuitive controls
In conclusion, a professional smoothie maker machine can help you save time and enjoy a frustration-free experience in the kitchen. It is a must-have for any commercial cuisine as it brings incredible versatility to the table. As you can see the market is abundant in models that try to satisfy every need, just choose wisely!