With so many TV shows that promote kitchen skills ("Top Chef" "Hell's Kitchen" etc) no wonder more and more people start to imagine themselves as professionals in their own comfortable cooking areas. A popular appliance to rely heavily upon when cooking is a good blender. It adds a restaurant-quality touch to your homemade meals and drinks. It does a great job when it comes to chopping, mixing, pureeing and crushing food, coffee beans and often ice. When you want to buy the best blender to crush ice and frozen fruits or other hard ingredients, you should look for a sturdy model with a powerful engine but also an easy-to-use model.
What to Look for in a Blender for Crushing Ice and Frozen Fruits
Let's see which are the most important features to follow when buying a blender.
The Blending Jar Material
Nowadays, the most popular materials for a blending jar are plastic and glass. We personally recommend glass since the models are more sturdy and durable. Another plus would be that glass never alters the taste of your food.
The plastic models are made of a special, hardy and hard-to-wear plastic, BPA-free. They also sport a very attractive price that makes them hard to pass by.
The Container's Capacity
Whether you want to feed a "crowd" or you ride solo, both cases require that you pay attention to the blender's capacity before buying the best model. The container should be as large as possible to accommodate situations where it is necessary to prepare products or beverages in larger quantities.
A large container can easily prepare smaller quantities of beverages, smoothies, soups, sauces, etc. Instead, a small container only brings frustrations and extra work when you decide to have friends and family over.
Opt for a blender with a container of at least one liter in volume (33 ounces).
Blender Blades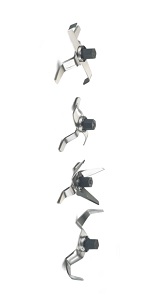 The blender's blades are perhaps the most important piece. When you want to prepare ice beverages, for example, resistant blades are key. The best blade construction material is stainless steel.
Also, opt for an S-shaped blade if possible. There are plenty of recipes that specify that it is necessary to use such a blade.
Functions and Extras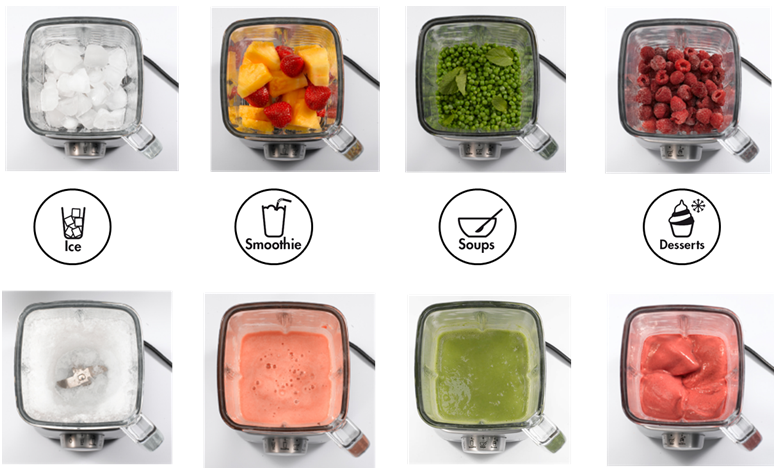 Pay attention to the functions and settings that the blender offers. It is good to have multiple speed and turbo functions.
The turbo function implies greater power for a quick start with the best results.
There are models that provide a predetermined rotational speed for large shredding, mixing, or breaking the ice.
The Motor Power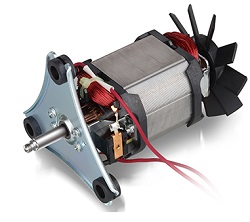 One of the most important features to guide you when planning a good purchase is the blender's power. When it comes to crushing ice or preparing smoothies out of more solid foods such as green vegetables, nuts or seeds, a higher power motor is a must.
The higher the blender power, the better the texture of the product. For smoother, creamier results make sure to purchase a blender with a minimum power of 600 W.
The Blender's Base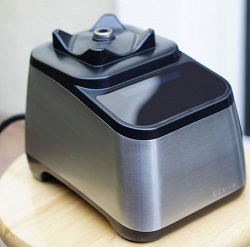 The base of the blender is the one containing all the mechanisms: the control panel and the display if any. If you have to choose between plastic and metal, it is good to choose the latter.
The metal base provides durability and a longer life span for the appliance.
Problems You May Face While Crushing Ice and Frozen Fruits With a Blender
The Smoothie is Not Creamy Enough/ It is Too Diluted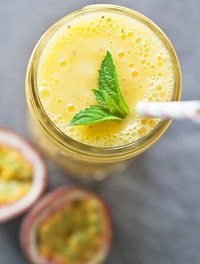 If you are not satisfied with your smoothie's consistency, it is better to add more fruits, preferably frozen, and something to stimulate the creamy factor. An oat spatula, a frozen banana, a cup of ice cream, silken tofu, nut butter or a thick yogurt or kefir could do the trick. Also, a drop of flavored saturated liquid like some fruit juice could fight off the watery taste. Just be careful what you mix in when you want to keep the calorie intake under control.
The Smoothie is Too Chunky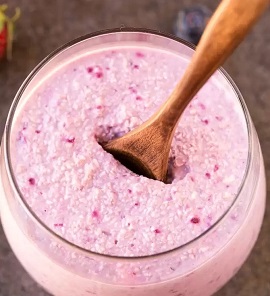 If you want to avoid chunks in your smoothie you should follow the correct order when adding ingredients to the blender. Start with a liquid base, then add the leafy greens if you decide to use them and finally, add the frozen fruits. Always start the blender on low speed and gradually increase to higher speed. This forms a vortex that pushes all the ingredients towards the blades, ensuring a smooth blending. You can also mix the greens with the liquid before adding the other ingredients. If you are still not satisfied with the result maybe it is time to invest in a high-speed blender with a stronger motor.
The Mawkish Smoothie/Brings tears to Your Eyes But not Joyful Ones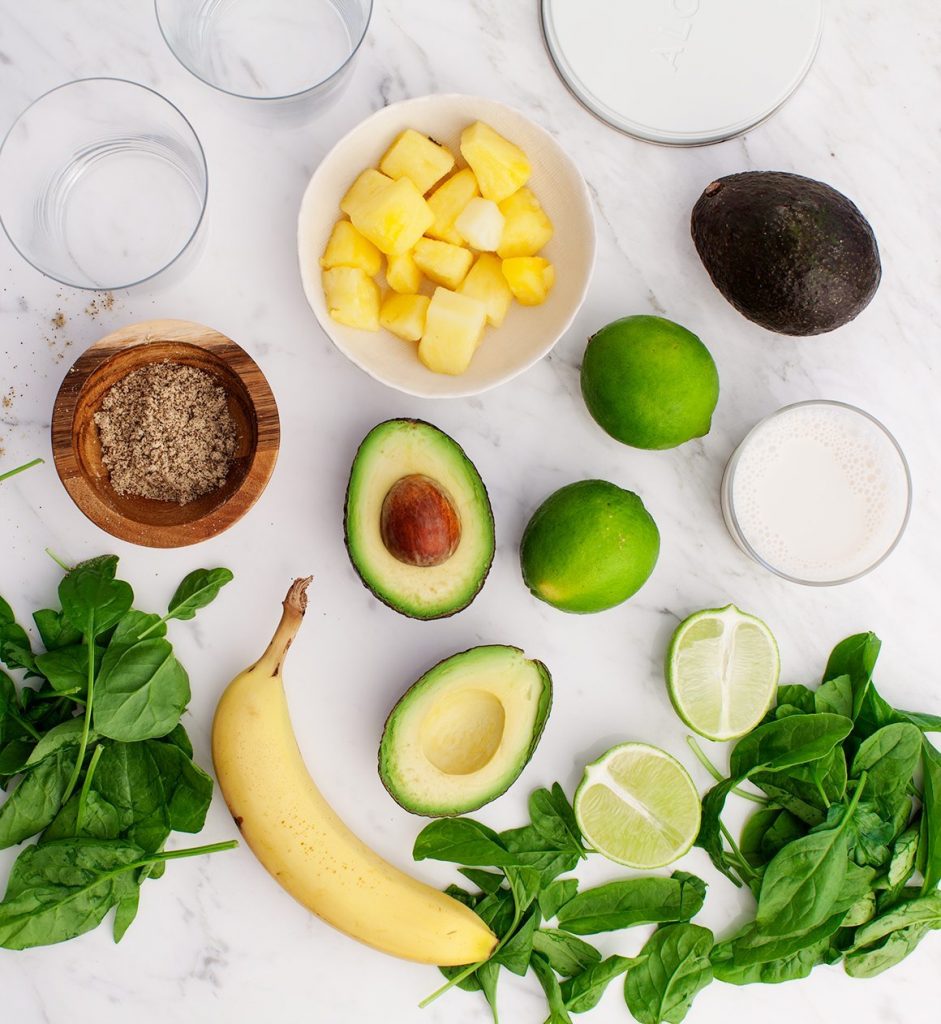 If you want to stick to a smoothie routine, your smoothies should not only be healthy but tasty too! So what can you do when your green smoothies accidentally taste like a liquid salad? Some ingredients that save the situation are milk (dairy or non-dairy), half of a frozen banana or crushed/frozen pineapple, and some liquid sweetener, like maple syrup or agave.
The Absolute Best Blenders for Crushing Ice and Frozen Fruits
Get rid of all the small appliances and make room for the powerful, high-end Blendtec Blender. It makes smoothies, fresh juice, ice cream, milkshakes, cappuccinos, margaritas, soups, sauces, bread dough, dressings, salsas and more! The large blade and large jar combination powers through tougher blending tasks and larger recipes with ease—and saves precious time.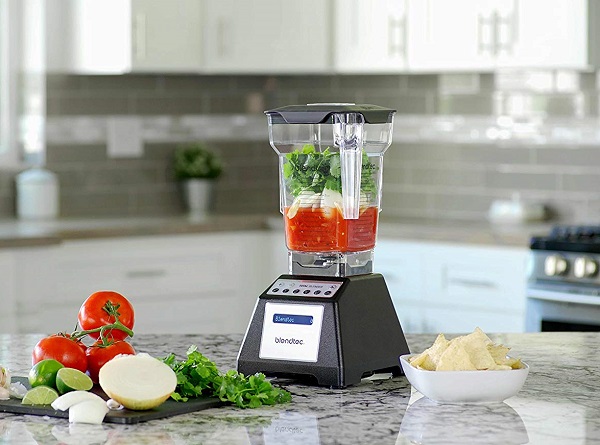 Blendtec Total Classic Original Blender with FourSide Jar (75oz volume/32 oz Wet/Dry Fillable), Professional-Grade Power, 6 Pre-programmed Cycles, 10-speeds, Black
Features
Easy Blending Cycles: 1-touch buttons, 6 pre-programmed cycles, pulse, and 10 speed manual control
Patented Blade/80% Thicker: Stainless-Steel forged blade, with wings, for amazingly smooth blends (10X stronger than other blender blades)
Self-Cleaning: Add a little soap and water, your jar can clean itself in less than 1 minute
Large Batches: BPA-Free FourSide Jar is a 75 ounce volume jar with 32 ounce blending capacity (wet or dry) ideal for blending beverages for 3-4 people
Warming Soup: Blendtec blenders heat soups and drinks through blade friction heat in 6 minutes or less.
8 year warranty/American Company: Family-owned and driven to build the best quality products – without compromise. Engineered and assembled in the USA
PROS
The Products Strengths
3.0 peak horsepower motor
Fully sealed, push-button controls
Preprogrammed cycles: Smoothie, Batters, Hot Soup, Whole Juice, Ice Cream, Ice Crush
10 speeds + Pulse
Illuminated LCD timer displays remaining time on blends
8-Year Warranty
Pretty noisy
Plastic jar
Because of the plastic jar, in time, you have to accept some inevitable scratching, nothing too deep or that would alter the blender's performance
This extremely powerful blender turns ice into "snow" in a matter of seconds- look for consumer reports. It is pricey but you can experience the professional feel from the first use. The engine is powerful enough to chop an apple core and all, turns the leaves fast and generates enough heat to make hot soup. Use it to grind grains into flour, coffee beans, and cheese fondues with no worries. This mixer is extremely durable and has a long, 10-year warranty. 17 programs and 500+ recipes with the iOS + Android app take this model a step further into the future.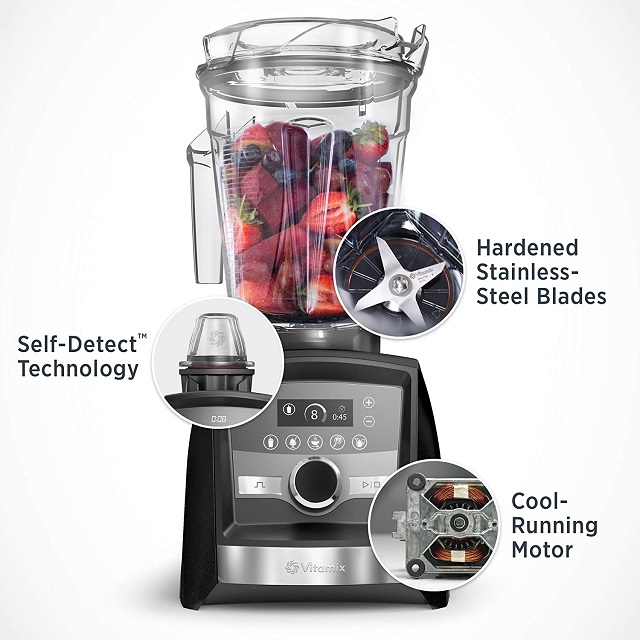 Vitamix A3500 Ascent Series Smart Blender, Professional-Grade, 64 oz
Features
Automated Blending: Five pre-programmed settings ensure simple cleaning, walk-away convenience, and consistent results for smoothies, frozen desserts, soups and purée recipes.
Variable Speed Control and Pulse feature
Touchscreen Controls, 17 programs and 500+ recipes with the iOS + Android app
Built-In Wireless Connectivity: The motor base is able to read the container size you've chosen and automatically adjust program settings and maximum blending times accordingly.
Low-Profile 64-ounce Container: Perfect for family meals and entertaining, while fitting comfortably under most kitchen cabinets.
Laser cut, hardened Stainless-Steel Blades
Self-Cleaning: With a drop of dish soap and warm water, your Vitamix machine can clean itself in 30 to 60 seconds.
Manufactured in Cleveland, Ohio USA
PROS
The Products Strengths
Five pre-programmed settings: (for Smoothies, Hot Soups, Dips & Spreads, Frozen Desserts, and Self-Cleaning)
Touchscreen controls and built-in timer for the smoothest process
Durability
Easy to use
Ingredients that stick inside the blades are trickier to remove
Expensive to purchase
Vitamix seems to dominate the professional blender market and truly holds a strong position in the consumer top preferences. This model is a heavy duty blender that deliver flawless results when it comes to perfect smoothies, packed with super foods like chia seeds, hemp seeds, spirulina, leafy greens, bee pollen and others. The 2.2 peak HP high-power motor recommends it for both commercial and household use. It can crush all frozen fruits, vegetables, nuts, ice and more.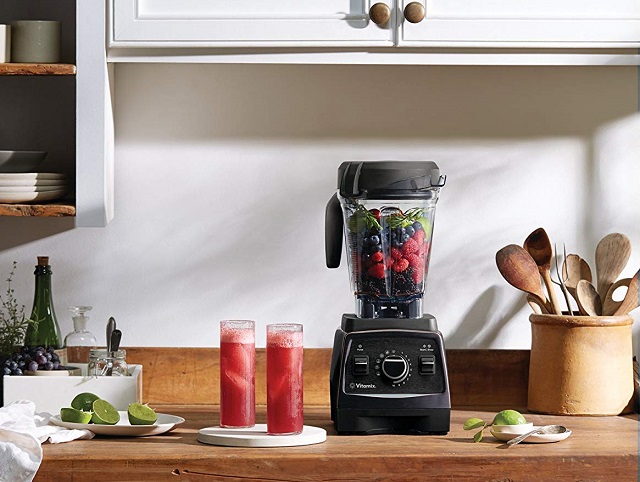 Vitamix Professional Series 750 Blender, Professional-Grade, 64 oz. Low-Profile Container, Black, Self-Cleaning
Features
PROS
The Products Strengths
2.2 peak HP, high-power motor is powerful than other blenders, perfect for commercial or household.
Large, multifunctional unit
Grinds ice cubes into slush with no problem
Made in the USA
For a high end blender, it uses quite some plastic
Five pre-programmed settings ensure simple cleaning and consistent results for smoothie, frozen dessert, soup, and purée recipes.
Variable Speed Control and Pulse feature.
Low-Profile 64-ounce Container: Perfect for family meals and entertaining, while fitting comfortably under most kitchen cabinets.
Hardened Stainless-Steel Blades: Our aircraft-grade stainless steel blades are designed to handle the toughest ingredients, so from the first blend to the last, you get the same quality results.
Self-Cleaning
Top 3 Medium Range Blender Models to Crush Ice
A mix of outstanding performance and sleek design ensures a high rank for the Ninja Mega Kitchen System in our best ice crushing blender top. The professional, 1500 watts motor is perfect for ice crushing, blending, pureeing, and controlled processing. Crush ice, whole fruits and vegetables in no time!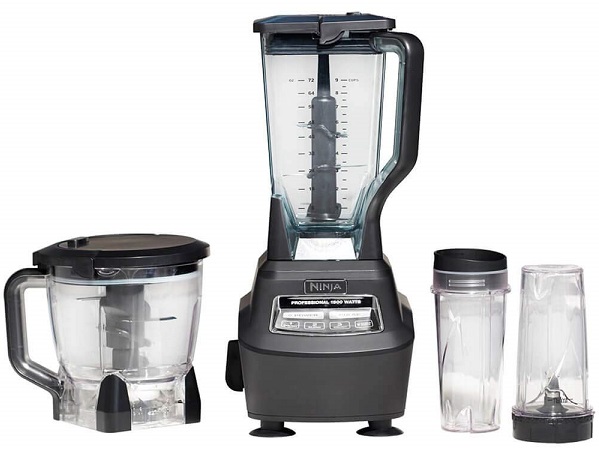 PROS
The Products Strengths
Medium priced for the great performance that it offers
Versatile and with plenty of accessories
Amazing consumers's feedback
Quite loud
Too many plastic elements
Ninja Mega Kitchen System (BL770) Blender/Food Processor with 1500W Auto-iQ Base, 72oz Pitcher, 64oz Processor Bowl, (2) 16oz Cup for Smoothies, Dough & More
Features
1500 watts of power to crush through tough ingredients like ice and frozen fruit
72 oz. Total crushing pitcher pulverizes ice to snow in seconds for creamy frozen drinks and smoothies.
8-Cup food processor bowl provides perfect, even chopping and makes up to 2 lbs. of dough in 30 seconds.
Two 16 oz. Nutri Ninja cups with to-go lids
Dishwasher-safe and BPA-free parts
30 Recipe inspiration guide
Amazing features help this Breville blender rank top in our blender crushing ice challenge. This powerful unit has the ability to crush and chop to turn ice into snow and has a special button for that. The blade design and high torque motor deliver superior blending performance.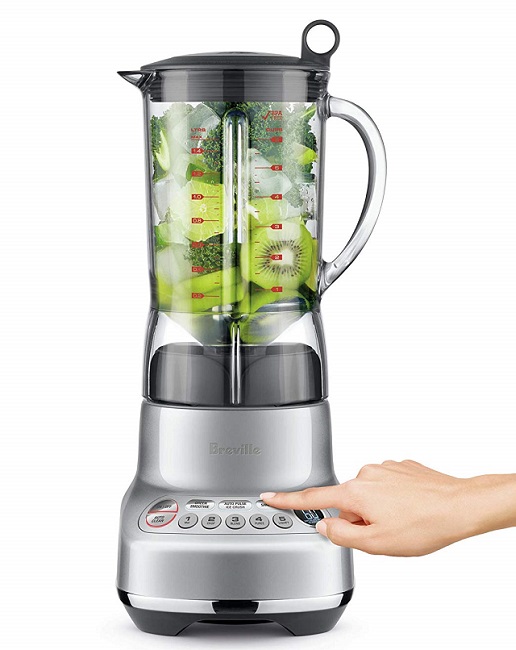 Breville BBL620 Fresh & Furious Blender, Silver
PROS
The Products Strengths
Even blending kinetics performance
Quiet & efficient
LCD display & timer
1-Touch versatility, pre-defined programs, including ice crush
Included accessories: Breville assist lid with inner measuring lid. Juicing cone.
Painted Plastic Base and BPA-Free Tritan jug are a bit less than one could expect for the price
50 oz Shatterproof Tritan jug is not the most generous capacity in this blender's category
Features
With kinetics contoured blade & bowl system for perfect smoothies
1-Touch versatility, pre-defined programs for instant smoothies, Green smoothies and ice crushing
Quiet & efficient
Heavy duty blades: engineered surgical grade stainless steel ensures the blades stay sharp, longer
LCD display & timer: LCD display counts up on speed settings and down for pre-programmed settings for complete control when blending.
Auto clean: to easily clean around the blades.
Breville assist lid unique ring pull design ensures the lid is easy to remove yet sealed tight during operation.
Complimentary recipe cards
Included accessories: Breville assist lid with inner measuring lid. Juicing cone.
NutriBullet combo blender is the perfect teammate to help you achieve your kitchen ambitions. This model is truly capable and versatile. The majority of the buyers appreciate it for superior crushing ice power.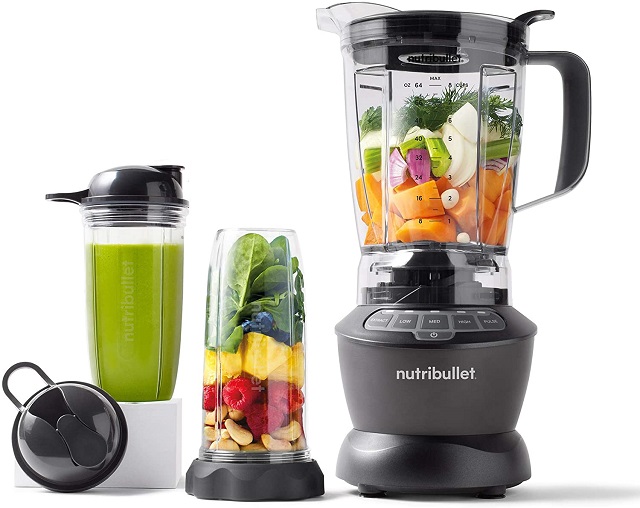 NutriBullet ZNBF30500Z Blender Combo 1200 W
PROS
The Products Strengths
Three precision speeds, A pulse function and the extract program offer full control at the press of a button
1200 watts of power let you make an endless array of smoothies, soups, sauces, nut butters and beyond.
Easy-twist Extractor blade is made of powerful stainless steel and designed with cyclonic action.
Noisy
Made mostly of plastic
Features
Provides both a multi-serving pitcher and a single-serve cup.
Three precision speeds, A pulse function and an extract program offer full control at the press of a button.
1200 watts of power let you make an endless array of smoothies, soups, sauces, nut butter and beyond.
Includes: (1) 1200W motor base, (1) 64 oz blender with lid and vented lid cap, (1) Tamper, (1) 32 oz cup, (1) 24 oz cup, (2) to-go lids, (1) easy-twist Extractor blade, and recipe book
Hassle-free cleaning – simply place pitchers and cups in the dishwasher and rinse the easy twist Extractor blades with soap and water.
Top 3 Budget-Friendly Blender to Crush Ice
When you intend to prepare smoothies for one person, and not necessarily on a daily basis there is no use breaking the bank! A budget blender can do the job just fine. Check out an attentive selection of the top 3 budget blenders that are capable of pulverizing ice without problems.
This solid blender crushes ice and frozen ingredients fast thanks to it's Powerful 1500 Watt/ 20 Peak HP motor and hardened, stainless steel blades. A nice design touch is the Infinite Speed Control button, with a ranges from slow 3,000 RPM to fast 18,000 RPM.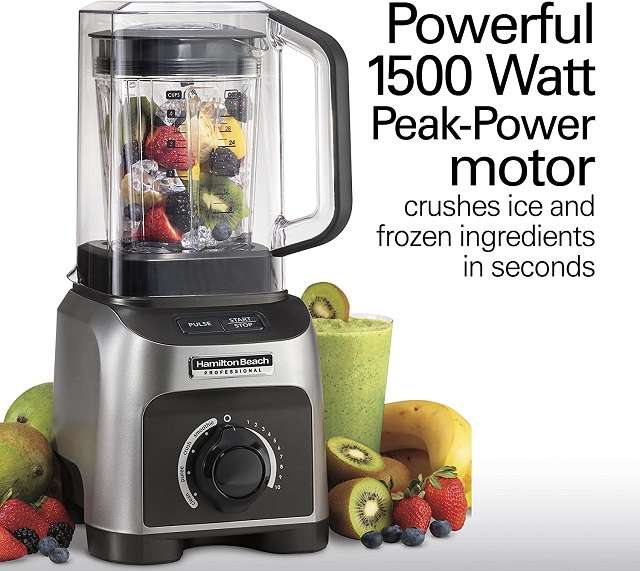 Hamilton Beach Professional Quiet Shield Blender, 1500W, 32oz BPA Free Jar, 4 Programs & Variable Speed Dial for Puree, Ice Crush, Shakes and Smoothies,…
PROS
The Products Strengths
Good, solid blender that provides 1500 watts of power and a 2.0 peak horsepower motor
Four pre-programmed settings eliminate guesswork and offer one-touch convenience. For a smoothie, ice crush and puree, simply add ingredients; choose the program by turning the dial, and press start. Use the clean setting for a quick wash.
Tamper Included
5 year limited warranty
The jar does not have a handle and it might be trickier to use for small hands
Plastic (BPA-Free) Jar
Features
Powerful 1500 Watt / 2.0 peak HP motor crushes ice and frozen ingredients in seconds 5-speed controls
4 program settings: Smoothie, Ice Crush, Puree, and Clean offer one-touch convenience and easy cleanup
Easily removable quiet shield dampens noise during the blending process
Hardened, stainless steel blades rotate at speeds over 105 mph to blast through tough ingredients
Variable speed dial provides effortless blending control for restaurant-quality results
Includes tamper to help blend thick, dense ingredients
5-Year Limited Warranty
The highly recommended Ninja Personal Blender is easy to use and clean, and the perfect tool for everyday smoothies, protein shakes and frozen blending. It is ideal for singles and couples but when it comes to larger households it could lead to a frustrating situation. It comes with Two 16-oz. Nutri Ninja cups, 2 Sip & Seal lids which makes it easy to enjoy your smoothies to go.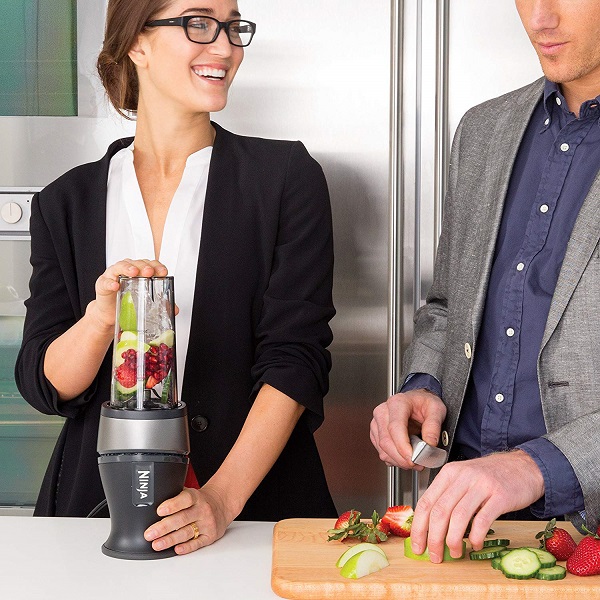 Ninja Personal Blender for Shakes, Smoothies, Food Prep, and Frozen Blending with 700-Watt Base and (2) 16-Ounce Cups with Spout Lids (QB3001SS)
PROS
The Products Strengths
Small and powerful, does not require much space but delivers good results
Cups/Lids/Blades are dishwasher safe
Personal blender, not ideal for large servings
Loud
Features
700-Watt Motor Base
(2) 16 oz. Nutri Ninja Cups
(2) Sip & Seal Lids
50-Recipe Cookbook
Use the Pulse function intermittently pulverize through ice, frozen fruit, nuts, and seeds
Dishwasher safe
If you appreciate power, precision and value there could be no better choice than an Oster Pro 1200 Blender. Enjoy superior versatility with this amazing appliance that comes with a 1200-watt motor, 7 speeds, including 3 pre-programmed settings for one-touch salsas, milkshakes, and green/frozen smoothies. If you need extra power, use the Pulse function.
Oster Pro 1200 Blender with Glass Jar plus Smoothie Cup & Food Processor Attachment, Brushed Nickel
PROS
The Products Strengths
Powerful motor, versatile appliance for a reasonable price
Durable materials for the jar, blades and blender base
7 speeds and 3 pre-programmed settings, including green/frozen smoothies
Control buttons stick out and may be trickier to clean
The glass jar can be a bit heavy to handle and maneuver, but this is, generally, a downside of the glass jars
Features
1200 powerful watts
7 speeds, including 3 pre-programmed settings for one-touch salsas, milkshakes, and green/frozen smoothies
Pulse for added control and precision
Dual-Direction Blade Technology blends in forward and reverse
The precise blade system is 50% larger compared to previous Oster blenders
6-cup Boroclass glass jar; extra-large, BPA-free
5-cup food processing bowl
Stainless steel slicing disk and chopping blade
24-ounce lidded smoothie to-go cup
10-year DURALAST All-Metal Drive limited warranty for longevity.
900 watts of ice crushing power
Best Blenders for Frozen Fruits
What recommends this model as a best blender for frozen fruits? A 600 watts motor with a cyclonic action that is capable of cracking through fibrous stalks, open seeds, rip apart the pulp and shred through the skin of fruits and vegetables.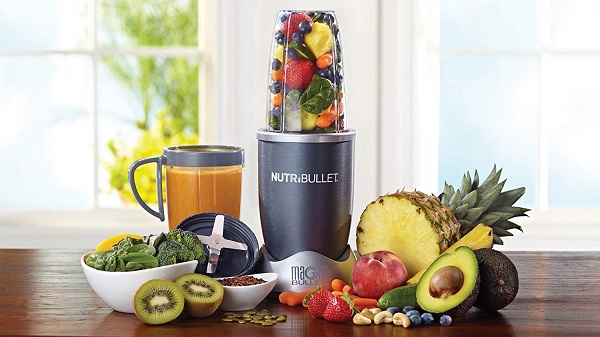 NutriBullet NBR-1201 12-Piece High-Speed Blender/Mixer System, Gray (600 Watts)
PROS
The Products Strengths
A real crowd pleaser, with positive feedback from thousands of buyers
Though compact, it manages to pulverize different seeds and even coffee beans
Versatile, durable, easy to use and clean
Not ideal for large families
Could leak while you blend it if you over fill it
Features
High-torque Power Base
Extractor Blade
Milling Blade
1 Tall Cup
2 Short Cups
1 Handled Lip Ring
1 Regular Lip Ring
2 Stay-fresh Resealable Lids
1 User Manual & Cookbook
1 Pocket Nutritionist
Breaks down even the toughest ingredients to unlock the vital nutrition inside
Wattage Output: 600 Watts
Number of Speeds: 1
Capacity (volume): 3 Cups
Appliance Capabilities: Shredder, Blends, Grinds, Chops
Material: Plastic (BPA-Free)
Care and Cleaning: Dishwasher Safe Parts
1-yr limited warranty
Dash Chef series brings amazing and powerful features to the table: 6-point commercial grade Japanese stainless steel blades and 1400 watt, 2.25 hp motor (same used in small lawn mowers). The blender successfully grinds, chops, dices, blends, purees and extracts juice. 8 preset functions help the user make the most of it: Puree, Soup, Smoothie, Crush, Frozen, Manual, Pulse and Rinse.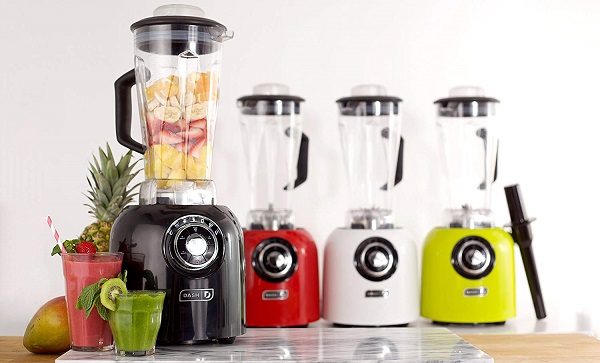 Dash Chef Series 64 oz Blender with Stainless Steel Blades + Digital Display for Coffee Drinks, Frozen Cocktails, Smoothies, Soup, Fondue & More – Black
PROS
The Products Strengths
One of the highest rated blenders for ice crushing and nut butters
Powerful and versatile tool: 1400 Watts, 2.25 peak HP motor with 35000 RPM, 8 preset functions
Easy to use and clean
Huge size, takes up quite some space
Pretty noisy
Features
1400 Watts, 2.25 peak HP motor with 35000 RPM
8 preset functions including rinse, purée, soup, smoothie, ice crush, frozen, manual and pulse
Japanese stainless steel 6 blade assembly blends, chops, dices, grinds, purées and juices
64 oz Tritan blending jug is virtually unbreakable
7 year warranty on the motor & a 1 year warranty on everything else, if you register the product you get a 2-year warranty
A combination of 3 essential elements make this blender a great appliance to have in your kitchen: 700-watt of peak blending power, 12 intuitive blending functions and a wave-action system, dishwasher safe, glass jar.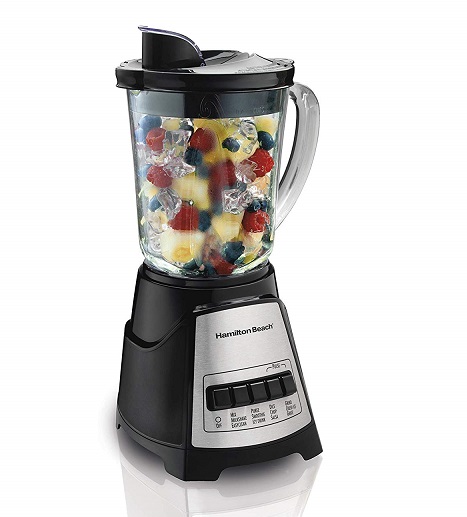 Hamilton Beach 58148 Power Elite Multi-Function Blender with Glass Jar (58148A), OSFA Black
PROS
The Products Strengths
Affordable, multi-functional blender
700 watts of power tackles everything you throw in the jar
Good quality, strong blades, glass blender, easy to clean
Uses plastic often in the whole assembly which is prone to wear and tear on the long run
Intricately designed lid is hard to wash quickly
Loud
Features
700 Watts of peak blending power
12 blending functions.
Unique, no-mess pouring spout with hinged cap.
40 oz. dishwasher safe, BPA-free glass jar.
3-year limited warranty.
You Get What You Pay For
It is a mistake to save money by purchasing a cheap blender. Cheap blenders use cheaper components, have less power, deliver a deficient mix and have shorter warranty periods.
Sayings like "anyone who buys cheap, buys expensive" or "who buys cheap, buys twice" are not for nothing. When you make sacrifices in quality, service, warranty, performance and buy a cheap appliance you end up with an unsatisfactory experience.
Household blenders range 50-200$ in price and are not designed for daily use or for the perfect shredding of fibrous leafy vegetables. As a result, the engine overheats and sooner or later it breaks. This usually happens in a few months. If you use it only once or twice a week for fruit smoothies or green smoothies, then a kitchen blender is quite a viable option and it lasts longer. If you want to get more out of your smoothies it is best to invest a bit more and enjoy the benefits on the long run.
Crushing Ice Without a Blender
Preparing a fresh cocktail made from crushed ice when you don't have a blender in hand can be challenging but not impossible! Though a bit more rudimentary, it gets the job done:
Put the ice cubes in a resistant bag and wrap it in a towel. Use an old pastry roller or a small hammer to crush them. If you opt for the hammer use gentle taps not full strong blows in order not to ruin the working surface. Once crushed, all you have to do is put your ice cubes in an ice bucket, and serve your guests or use them in your favorite drinks.