Choosing the right blender for your smoothie crusade can be a challenge, especially when you are on a tight budget. If you ever wondered what to look after when choosing the Best Blenders Under 100$, this post intends to make things easier. All the mixers seem to be able to make smoothies but when you want to use ice cubes, frozen fruits, fibrous vegetables, nuts and seeds in your recipes, you should opt for a robust smoothie maker, with many functions and enough force. The best blender for creamy, delicious smoothies should have an output of 750 watts and higher.
Check out below, the Best Blenders Under 100$ that will help you enjoy a healthy lifestyle without blowing up your savings.
Don't get fooled by its size: the Nutri Ninja Pro Blender, with its 900 Watts, can easily compete with high-end blenders when doing the basics. It is also easy to use and clean. For $90, it makes smoothies as great as some $400 and $500 models. Plus, it does the job quickly and with style. The single-serving containers easily transform from blending jars to travel-ready cups.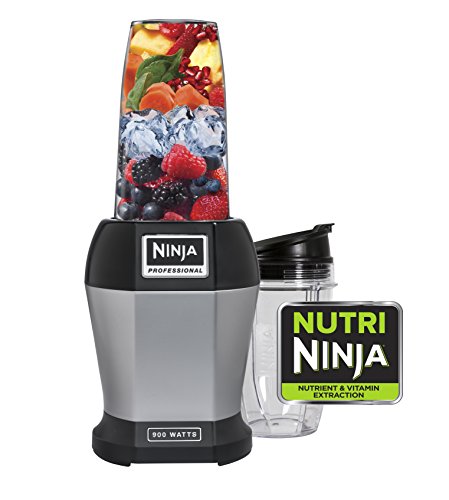 Specifications
Power – 900 Watts – 21,000 RPMs- deliver a silky, smooth consistency in a matter of seconds – perfect for a busy, on-the-go lifestyle.
Speeds – Pulse Technology
Ninja Pro Extractor Blades crush through ice, seeds, skins and stems for a smooth, even consistency
Nutri Ninja Cup Capacity – (1) 18 oz. and (1) 24 oz.
BPA Free
Dishwasher Safe
Perfect for smoothies and frozen drinks this Hamilton Blender is sturdy and provides enough power to satisfy your need for a healthy serving in no time. It crushes ice effortlessly and blends hot liquids, soups, salsas & dips. It is a highly functionable model, easy to use and to clean.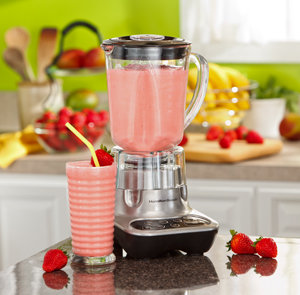 Specifications
Makes the perfect one touch smoothie
Powerful ice crushing with patented ice sabre® blades
Patented wave action system for smooth results without stirring
700-watt peak power
Unique, no-mess pouring spout
Ninja Blenders are very popular among smoothie consumers. The sleek design and the outstanding, 1000 Watts power make the Ninja Professional Blender stand out in the crowd. Featuring Total Crushing Technology, blending, pureeing, and controlled processing have never been easier. Crush ice, whole fruits and vegetables in seconds! The professional blender jar is big enough to make drinks and smoothies for the whole family.Plus, all parts are BPA free and dishwasher safe.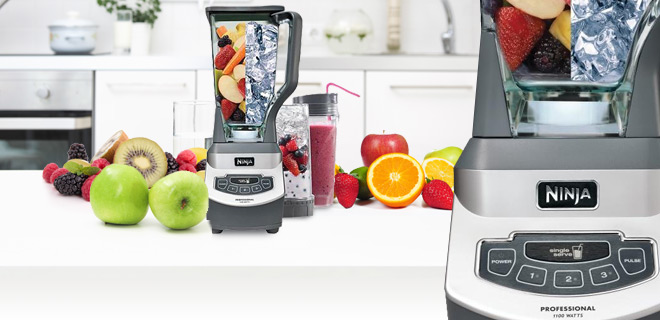 Specifications
1000 Watts of Professional Performance Power
XL 72oz. Professional Blender Pitcher with Pour Spout
Ninja 6-blade technology
Total Crushing Technology crushes ice, whole fruits and vegetables in seconds
BPA Free and Dishwasher Safe
Cuisinart Blending/Chopping System CPB-300, 15-Piece
Cuisinart SmartPower Compact Portable Blending/Chopping System helps you make smoothies in a flash! It comes with 2 high-quality blade assemblies, strong enough for all blending, chopping and grinding tasks.The heavy-duty motor base with stainless steel accents develops a 350 W power, enough for medium usage.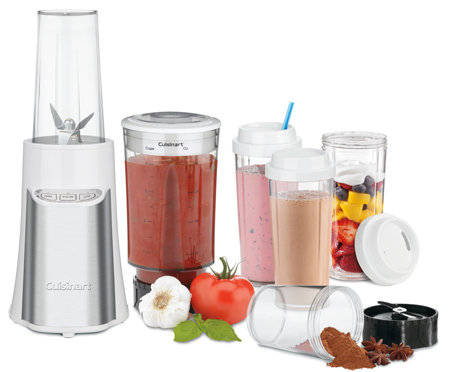 Specifications
Powerful 350-watt motor with a sleek electronic touchpad
LED indicator lights
Standby Mode; Safety interlock and Auto Stop features
High, low and pulse controls with a patented ultra sharp stainless steel blade
BPA-free tritan 32-ounce blender cup
8-ounce chopper cup
A set of four 16-ounce "To-Go" cups
With Nutri Bullet you can say goodbye to any chunks in your favourite smoothies. Its revolutionary system promises to extract every nutrient from the fruits and veggies to deliver perfectly smooth,delicious results. It is very easy to use and clean and it develops 600 watts of power that tear through kale, chard, frozen berries, almonds, chia seeds, etc in not time.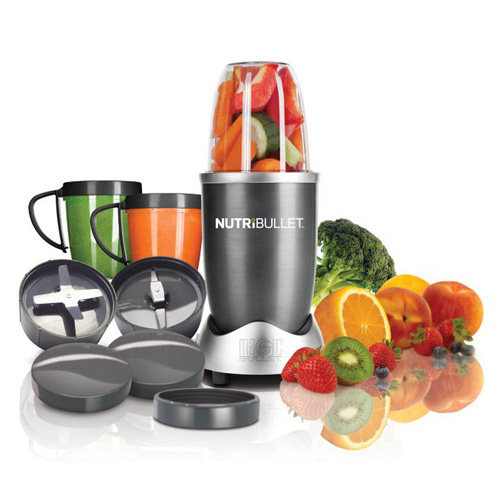 Specifications
600-Watt Motor
1 Extractor Blade
1 Milling Blade
BPA Free
Stainless Steel