Green smoothies have fabulous benefits for the human bodies: they prevent kidney stones, provide a feeling of fullness and fight bowel problems. Also, they help with mitigation of the gastric acid's reflux. But how can we maintain our helthy habits when we can't enjoy the confort of our homes? How to make green smoothies while traveling, regardless the travels are for business or pleasure? Check out some helpful tips in the following post.
Book Hotel Rooms With Mini-Refrigerators
This step is usually easy to complete and requiers minimum effort. A mini-refrigerator keeps the essential smoothie ingredients ( leafy greens, milk, fruits and veggies) crisp and fresh. If you have a supermarket close to the hotel, buying all the ingredients will take little time and serving at least one healthy meal per day won't be a challenge.
Mini Smoothie Travel Kit
To prevent spending more money than neccessary, before packing all your bags, take time to make this mini smoothie travel kit: a small cutting mat, a spoon for measuring,  a small knife, a plastic cup- even better one of those container cups for smoothies "to go", a roll of paper towels to wipe any drips or spills. If you use special powders to flavor your smoothies (Wheatgrass Powder, Camu Powder, Acai Powder, Goji Powder, etc)  make sure to add those too.
Find the Perfect Travel Blender
The real challenge of "How To Make Green Smoothies While Traveling" appears when you can't find the perfect travel blender/ portable blender to satisfy your needs. Before making any purchase, you need to understand that a portable blender can't compare with the performances of a heavy-duty blenders like Vitamix, Blentec or Ninja. To protect it from quick "burn-out" cut the vegetables in small pieces, blend maximum 1 minute at a time and stir manually.
Best Travel Blenders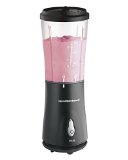 Features
Efficient 175-watt motor provides all the power you need for fast, reliable performance
Compact design ideal for small living spaces and on-the-go portability
Great for making smoothies, shakes, baby formula, marinades and salad dressings
Simple one touch pulse operation for fast, easy blending
14-oz. blending jar also functions as portable travel cup that fits most car drink holders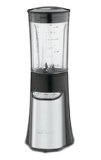 Features
Powerful 350-watt motor with a sleek electronic touchpad and LED indicator lights
ABS housing with stainless steel front panel
Standby Mode; Safety interlock and Auto Stop features
High, low and pulse controls with a patented ultra sharp stainless steel blade
BPA-free tritan 32-ounce blender cup, 8-ounce chopper cup and a set of four 16-ounce "To-Go" cups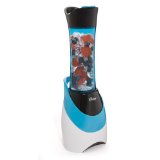 Features
Powerful 250-watt motor with One Touch blending
Blend your favorite smoothie or shake right in the sport bottle
Built-in, resettable fuse will revive the motor in 15 minutes should it overheat
Recipes included in the instruction manual
Dishwasher-safe 20-ounce BPA-free plastic sport bottle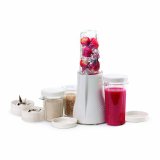 Features
The powerful 200 watt motor easily blends all your favorite ingredients, including ice, and grinds all your grains, nuts, and seeds
Compact blender set, with 2 large blend-n-serve cups and lids
Blending/grinding blades are completely enclosed during operation, making it impossible to come in contact with spinning blades
2 modes of operation: one touch pulse and press/ twist continuous modes for blending and grinding to that perfect consistency
The polycarbonate blend-n-serve cups are virtually unbreakable, they are made from the same material used in bullet-proof glass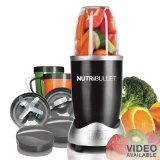 Features
High-torque power base and 600-watt motor
Effortlessly pulverizes fruits, vegetables, superfoods and protein shakes into a delicious, smooth texture
Power, patented blade design and cyclonic action combine to extract all nutrients from food helping to achieve the healthiest lifestyle possible
Includes a power base, 1 tall cup, 2 short cups, 1 flat blade and 1 emulsifying blade, 2 re-sealable lids, pocket nutritionist and manual with recipes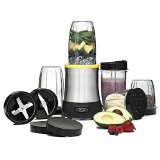 Features
Powerful 700W motor
High Performance Stainless Steel Blending and Grinding Blades
Dishwasher safe parts for easy cleaning
Includes Three 24oz BPA-free tumblers, Two 12oz BPA-free tumblers, Emulsifying blade, Grinding blade, and travel lid for drinks on the go