The Blender is a very popular appliance. Thanks to its design, functionality and ease of use, this device has already charmed many users. It offers great help with soups, juices, smoothies, cocktails and it can also crush ice. Depending on the material they are made of, functions and power, blender prices vary from 30$ to over 900$. For people who want to buy a cheap blender, under 50$ but still get a decent job done, this article presents the best options to satisfy your needs!
BLACK+DECKER BL1820SG-P Fusion Blade Digital Blender
The Black&Decker model has an attractive design  and a sturdy build. The separate smoothie feature is pretty handy. Also easy clean-up and the ability to chop ice and frozen fruits are a plus. The power cable wraps under the blender making the model easy to use and store. It comes with a personal size blender cup- if you prefer thicker drinks we recommend to make the smoothie in the standard jar and transfer it to the cup for later mix or use it as a "to go" serving container.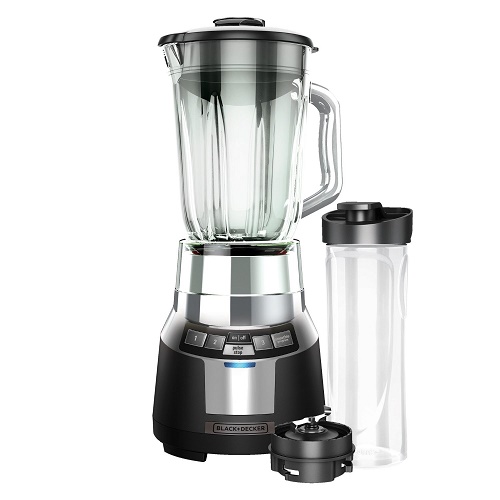 Features
Four-function digital controls
Two stainless steel Fusion Blades
6-cup (48-ounce) glass jar
Personal Size Blender Included
Multitasking-The lid insert does more than protect you from spills; It doubles as a 1-ounce measuring cup that is perfect for making mixed drinks
Product note: the logo design of this item may vary depending on when the product was manufactured
Oster combines its reliable technology with a sleek design in an high-aimed, affordable blender with 2 speeds and an impressive 1000 watts of power/600 Watts for blending. You can comfortable manage to prepare soups, dips, sauces but also cut ice cubes, crumble/ frozen fruits and nuts and you won't bust your budget for these fine results.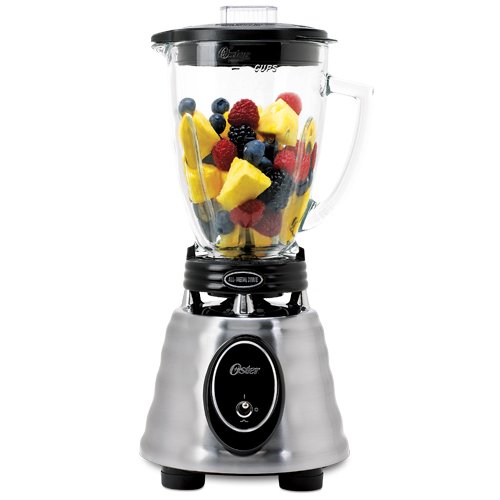 Features
1000 power watts/ 600 blending watts
Crush Pro(TM) 4 Blade uses stainless steel, 4-point design to pulverize and chop with precision
All Metal Drive is extra durable for a metal-to-metal connection
2 Speeds with HIGH/LOW toggle switch
6-Cup Boroclass Glass Jar is dishwasher safe for easy clean up
2-ounce filler cap has built in markings to measure and pour ingredients while blending
If you are doubtful a blender under 50$ could "wow" you give it a try to this Hamilton Beach model. It answers perfectly to the needs of those with a busy lifestyle that are still concerned for their well-being and healthy diet. It has a 650 watt power motor and it comes with some additional containers that will make your life easier. Besides the 32 oz main jar, it has two 16 oz travel cups with drinking lids and an 8 oz cup, perfect for chopping.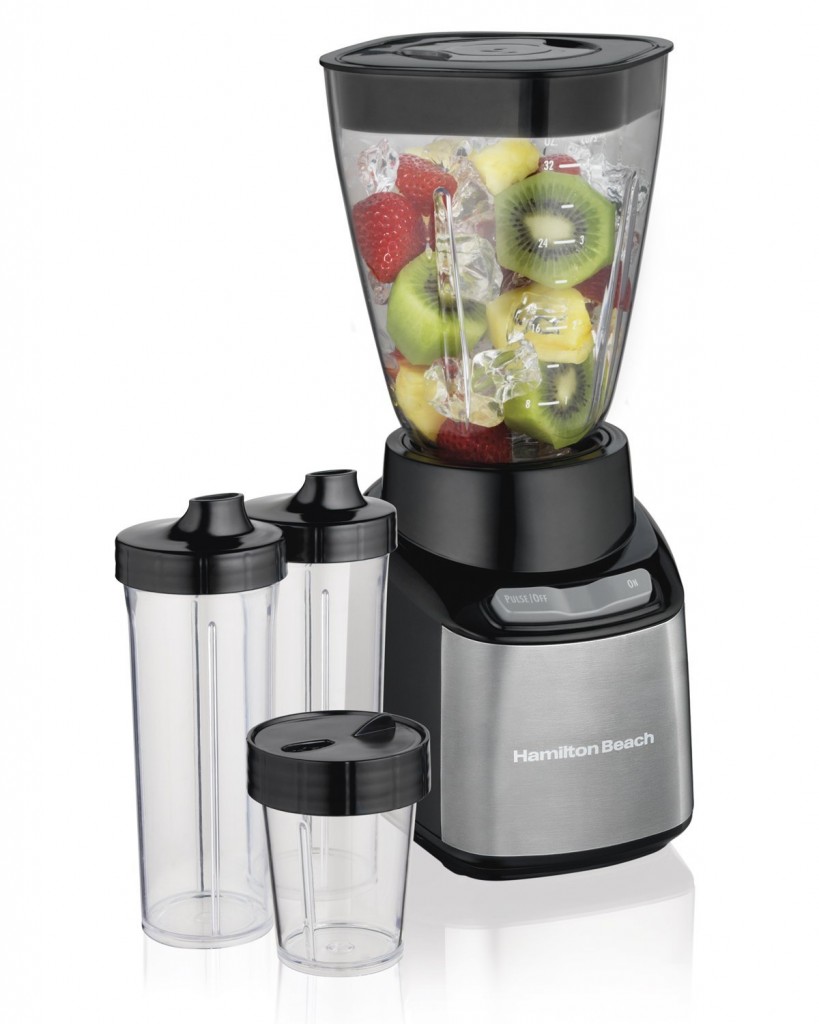 Features
Complete 8 piece set
Great for food and drinks
650 watt peak-power motor
Pulse action for chopping control
All of the included containers are made of shatterproof Tritan that is crystal clear, lightweight, dishwasher safe, and BPA-free
Although for around 50$ you would expect something rather basic, this Oster model is anything but that. A 6 cup glass jar, thermally tested to allow you to blend steamy or frosty ingredients is paired with a stainless steel, reversible blade to provide the user with flawless performance.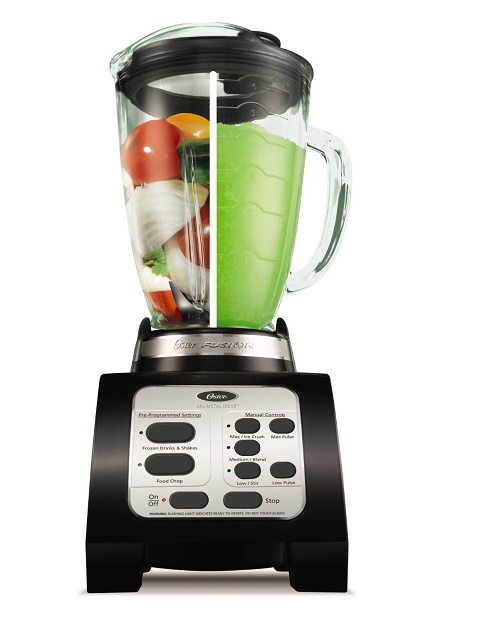 Features
Powerful 600-watt motor of ice crushing power with 7 pre-programmed digital speeds
Reversible blade technology combats clogging
6-cup dishwasher-safe, scratch resistant glass jar is thermal shock tested to withstand extreme temperature changes
Oster All Metal Drive for lasting durability
Ice Crusher blade pulverizes ice and frozen fruit
Little strokes fell great oaks says a witty proverb and we could not miss the best seller Conair Cuisinart Smart Stick from our selection of budget friendly blenders. Over 3000 top ratings prove its versatility. It definitely won't chop ice but it does a great job pureeing baby food, soups, making sauces and delicious, non starchy smoothies. To make things more fun, it comes in a variety of colors to please every taste.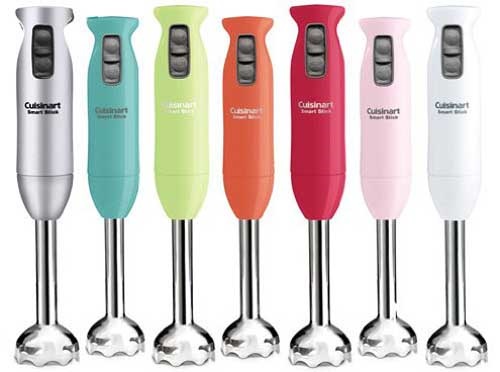 Features
2 speeds (low and high) for all your blending tasks
Stick design reaches into pots, pitchers and bowls to extend blending options
Ergonomically designed grip offers comfortable hold and more control while blending
Operates with a one-touch control for easy, one-touch blending
Dishwasher-safe blending shaft and beaker make cleanup effortless
Ninja Blenders are very popular among buyers but if your are not ready to invest in their heavy duty models, the Master Prep is a great start. A decent, 400 watts power motor, 2 cup processor minces and the ability to crush ice make it a tempting choice for any smoothie aficionado.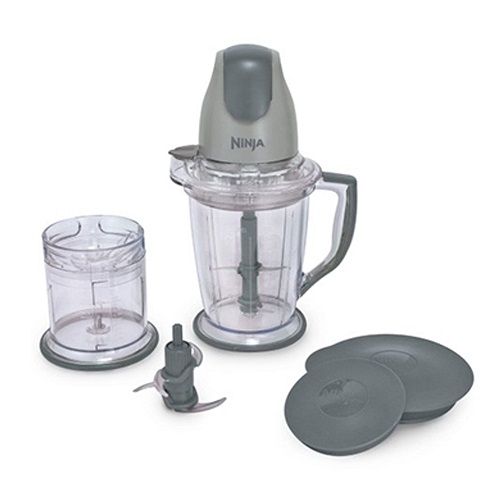 Features
Quad blade technology has unique processing power for uniform cutting and ice crushing action
Large 48-ounce pitcher with easy pour spout and no slip bottom
2-cup processor minces, dices, chops, blends and purees
Includes a 16-ounce master prep bowl
Interchangeable 400 Watt Power Pod
Frozen Blending
Perfect for chopping
An attractive design combined with 500 watts of power and a revolutionary "wave action" blending system that forces the mixture continuously towards the stainless steel blades make this Hamilton Beach blender an efficient affordable choice for both beginners and experienced smoothie lovers.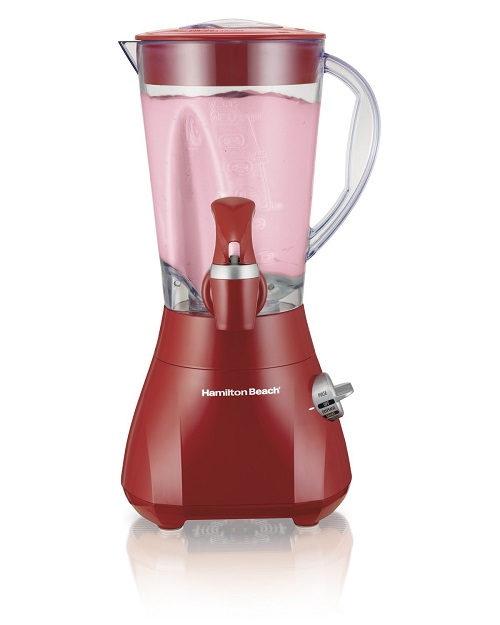 Features
Revolutionary wave action system
500-watt peak power
Dishwasher safe, durable jar- stronger and 50% thicker, break-resistant and has a 48 oz capacity
4 speeds plus pulse
Convenient spout cap stores under the blender
4 colors available : red, green, black and blue
If you are living a fast paced life this Oster blender is the right partner to help you enjoy your favourite smoothies or shakes. It takes little space and it is perfect for daily use. It is also a great travel blender.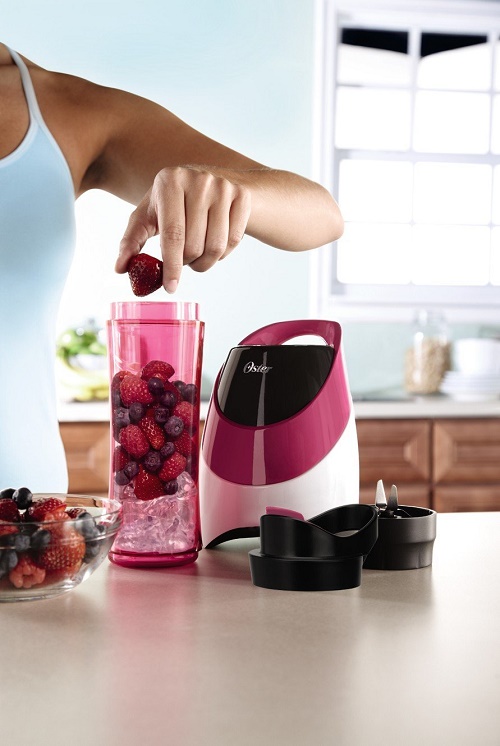 Features
Blend your favorite smoothie or shake right in the sport bottle
Dishwasher-safe 20-ounce BPA-free plastic sport bottle
Powerful 250-watt motor with One Touch blending
Built-in, resettable fuse will revive the motor in 15 minutes should it overheat
Recipes included in the instruction manual
5 color options: pink, blue, green, red and orange
The 500 watts power, 2 speeds and pulse function help the Chefman blender to crush ice and make delicious smoothies and other refreshing drinks and also sauces, soups and guacamole.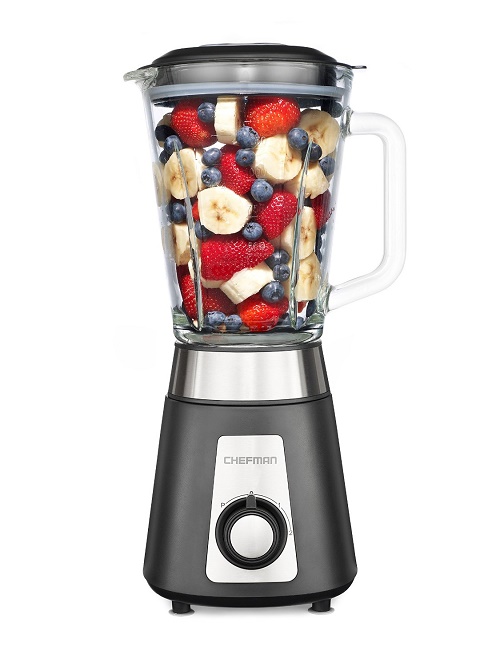 Features
500-watt powerful motor allows for maximum blending
2-speed rotary switch knob with pulse control for added versatility
Crushes ice with ease, making delicious smoothies, sauces and more
50-ounce capacity
Limited 3 year warranty
If you want more from your blender this multi-functional model is the ultimate kitchen assistant: it blends, juices, makes smoothies and grinds. It has a bunch of really handy accessories that will help you cook master chef top dishes in no time.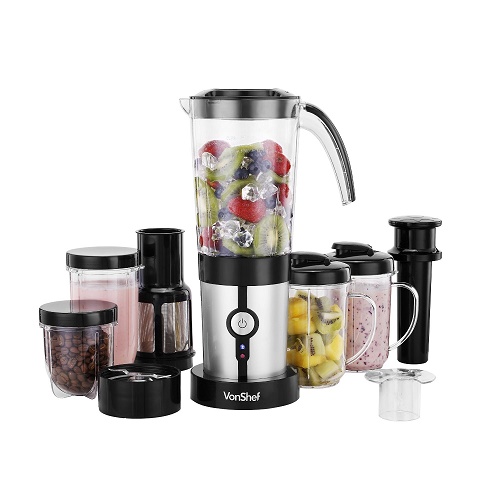 Features
Blends, juices, makes smoothies and grinds
Perfect for a wide variety of ingredients and recipes including soups, sauces, dressings, marinades, batters, desserts, coffee, nuts, spices, fruit and vegetable juices, smoothies, cocktails, milkshakes and much more!
Includes large 1.5L blending/ smoothie maker jug with 1L capacity, centrifugal juicing filter, 2 x beakers with lids, 1 x large cup with lid, 1 x small cup with lid, stainless steel flat blade, stainless steel cross blade and food pusher
Pulse function provides extra power when you need it most
Features auto shut off overheat protection
Power: 220W